Why or Why not?
(2020)
Video, Dur. 06:46 min, HD colour, sound
Credits
Jochen Jezussek / poleposition dc, Mat Hand, Sarah Thom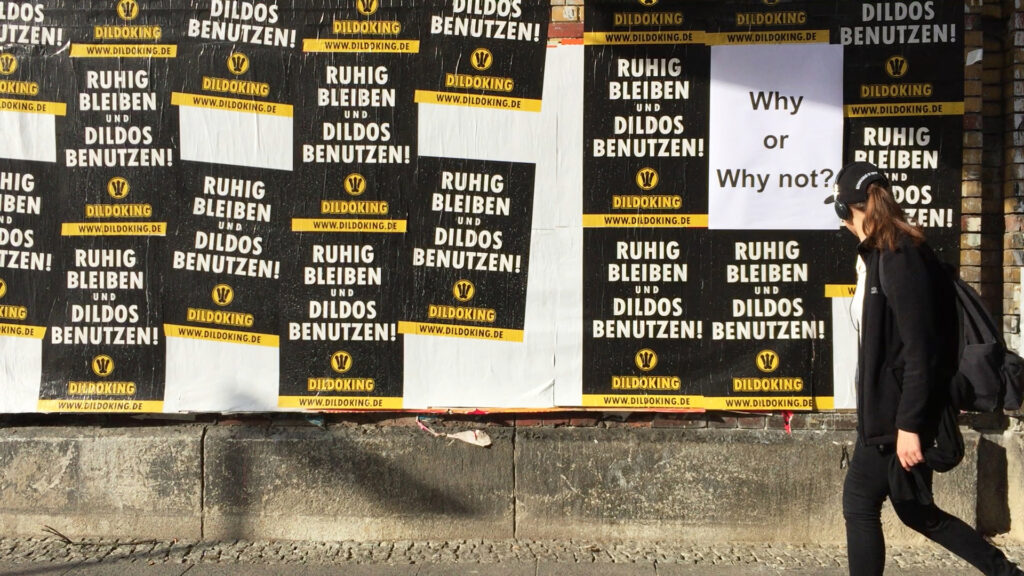 The work Why or Why not? was commissioned by the International Short Film Festival Oberhausen. Lars Henrik Gass, the festival director, asked filmmakers during the lockdown in Germany to make a video contribution to negotiate the question: Can and should one make films now?
The challenge of producing a film without a crew in front of or behind the camera was less interesting to Honeit than examining the massive shift in perspective of one's own actions in the face of a worldwide pandemic. That is why she reduced the question to Why or Why not?, which is less about the possibilities or impossibilities of continuing an (artistic) practice in a lockdown, but more about questioning in general a continuation of life 'as before' in the age of the Capitalocene.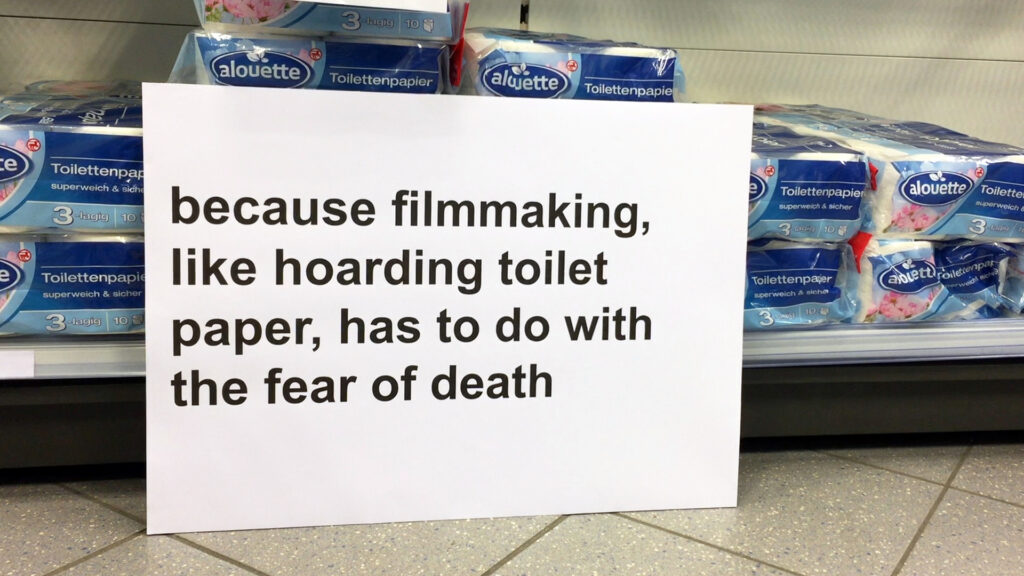 The camera, which was set up in the streets of Berlin during the first lockdown in March 2020, frames several tableaux vivants of the new Corona everyday life, commenting via analogue text panels that are held into the picture. Two opposing narratives are presented in uncanny familiarity.
In August 2020, the Goethe Institut Montreal invited video artists from Canada and Germany to submit their ideas on the topic "The City in Times of the Virus": Will nature reconquer the inner cities? How do social rules and medical hygiene rules affect our bodies? How will we move in the urban space? How will we interact in the era of social distancing? – The eight selected videos will be projected after dark onto screens placed in the storefront windows of the Goethe-Institut Montreal on Boulevard St. Laurent until March 2021.
The Jurys' statement: In pandemic times the "new normal" shouts at society. Kerstin Honeit analyzes the imperatives of (post) Covid-19 logics by deconstructing the new reality through a (self)reflective work. A Filmmakers point of view which shows the ambiguity of daily affirmations that affect artistic creation (or not). Peter Haueis
Jury: Anna Lena Seiser, Anyse Ducharme, Miryam Charles, Peter Haueis, Annette Hegel
Why or Why not? will be shown at Goethe Institut Montreal as part of the exhibition projectin January 2021.