/// NEWS ///
3 video works by Kerstin Honeit / Screening and Artist Talk
/ / / September 12 2018, 6pm / / /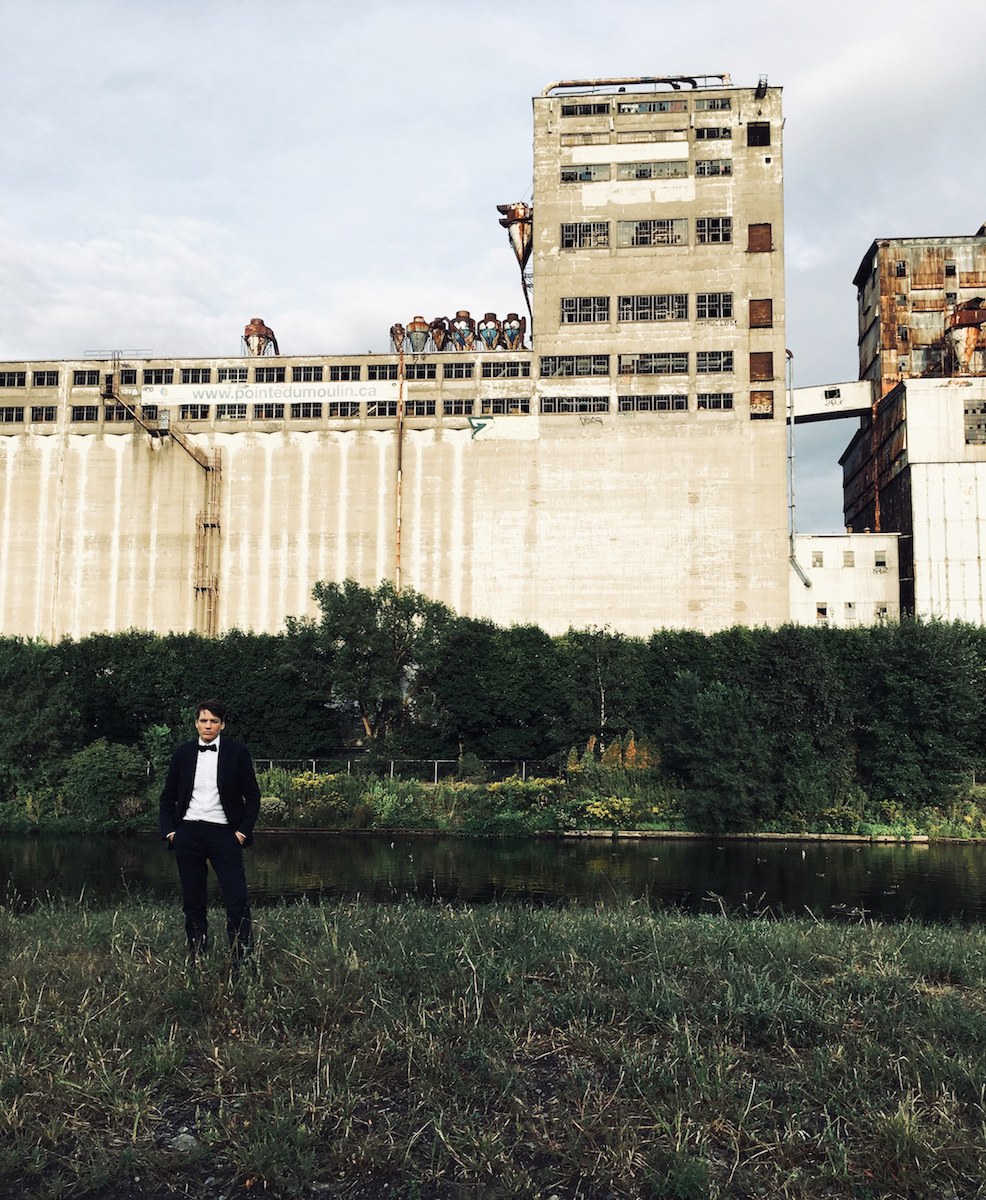 Using video works, performance and installations in her artistic research, Kerstin Honeit (Berlin) examines worlds of hegemonic image production in the media of information technology and pop culture. Intervening at the boundaries of representation and reception, she questions the construction of social norms.
At present she is in Montreal working together with Emma Cattell and Ben Brix to gather material and to produce film footage for her newest work in progress: SILO5, which talks about the notion of archives, collections and heritage in an post-industrial and post-colonial globalised world within the aesthetics of a queer-feminist Sci-Fi.
La Centrale / Powerhouse
4296 St Laurent Blvd
Montreal, QC H2W
Canada


CAA Art Museum
/ / / September 12 – 22 September 2018 / / /
Exhibiting Artists: Bjørn Melhus, Jan Peters, Joel Baumann, Kerstin Honeit, Yuki Jungesblut, Kerstin Meyer, Clara Winter & Miguel Ferraéz, Annika Glas, Lisa Dreykluft, Miguel Wysocki, Julia Charlotte Richter, Jenny Michel, Daniel von Bothmer, Joengmoon Choi, Romina Abate, Isabel Paehr and Jasper Meiners, Echo Can Luo, Felix Böttcher, Lea Schönfelder, Volko Kaminsky, Nicole Voec, Tobias Bilgari, Katty Leitner, Holger Jenss.
China Academy of Art Museum
218, Nanshan Road,
Shangcheng District
Hangzhou
China


Montreal Arts Interculturels
/ / / September 1st – 10th 2018 / / /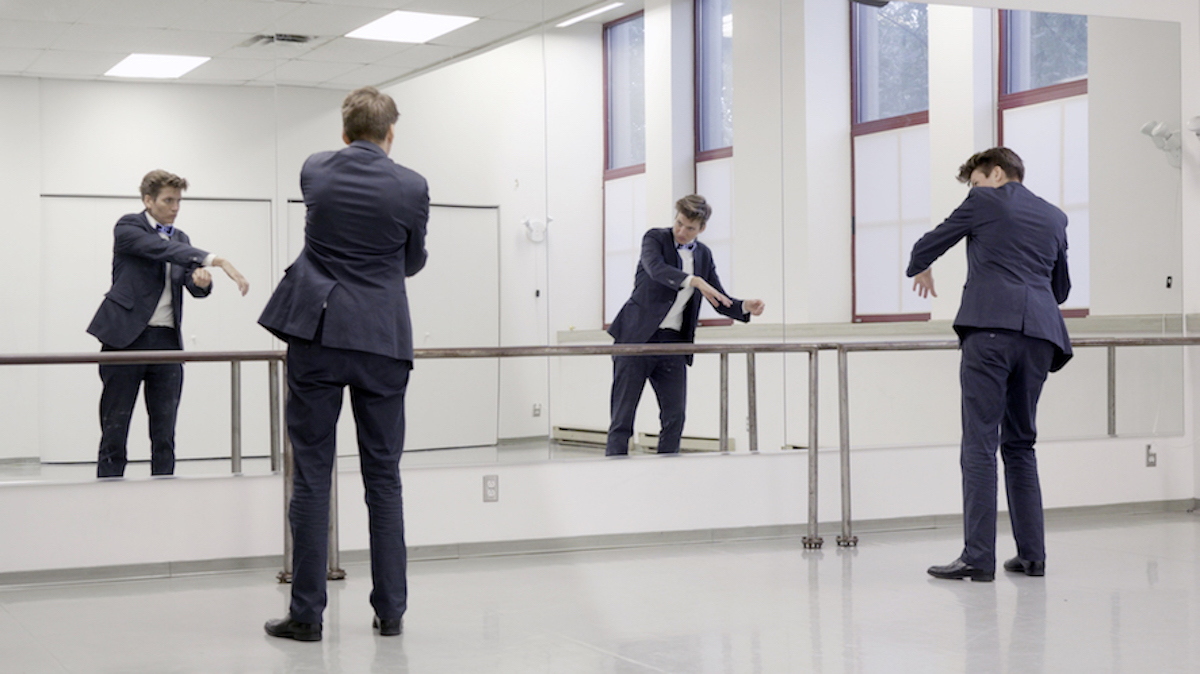 Neither an institution nor an artist-run centre, MAI is often referred to as that strange beast for its multifaceted modus operandi and mandate specificity: an inclusionary, pluricultural, pluridisciplinary presenter also operating an artist-driven mentorship program, and the conveyor of an annual community exchange/public development program entitled Public +.
Advocating for, and in support of the development, creation, presentation and promotion of intercultural arts (hybrids created through a blending of forms, genres, styles, disciplines and languages) for diversified audiences; offering programs that catalyze conversations about intercultural, intergenerational, interdisciplinary arts, and accompanying themes; promoting community and intercultural exchange along lines of gender, race, class, ability, sexual orientation, religion, age, language or other such sectarian axes of identity, marked and unmarked. In other words, the MAI is a space where dualities and pluralities are bridged. The ultimate goal is that MAI's programming and public development/community exchange activities champion inclusiveness, offering a differing version of what 'us' looks like; of being home to artists for whom showing their culture while in conversation with another's is an imperative.
3680 Jeanne Mance St
Montreal, QC H2X 2K5
Canada


CODE Art Fair Copenhagen
/ / / August 30 – September 2 2018 / / /
Film program Borderlands at CODE Art Fair Copenhagen
In the auditorium you can enjoy the film program Borderlands dealing with this same theme in both literal and metaphorical ways.
The film program has been curated by Caroline Berner Kühl from Code Art Fair.
Hans Op de Beeck, "The Girl", 2017 (Galerie Krinzinger)
Heba Y. Amin, "As Birds Flying (Kama Tohalleq al Teyour)", 2016 (Zilberman Gallery)
Kerstin Honeit, "my castle your castle", 2016/2017 (Balzer Projects)
PARKing CHANce, "Believe it or not", 2018 (Kukje Gallery), Commissioned by Asia Culture Center, A MOHO Film Production
Felix Kiessling, "Endpunkt Europa", 2017 (alexander levy)
Mika Taanila, "The World", 2017 (Balzer Projects)
M+M (Marc Weis & Martin De Mattia), "7 Tage (7 Days)" (Nir Altman Galerie)
Carlos Aires, "Sweet Dreams are Made of This", 2015 (Mario Mauroner Contemporary Art)
Center Blvd. 5
2300 Copenhagen
Danemark


PS120 Berlin
/ / / July 26th – August 26th 2018/ / /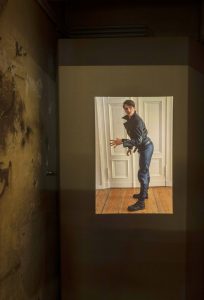 Exhibiting Artists: Kenneth Anger, Trisha Baga, Carrick Bell, Dante Buu, Andrey Bogush, Monica Bonvicini, Guglielmo Castelli, Michael Elmgreen & Ingar Dragset, Kerstin Drechsel, EVA & ADELE, Claude Eigan, Leon Eisermann, Tom of Finland, Gerrit Frohne-Brinkmann, GeoVanna Gonzalez, Monika Grabuschnigg, Luki von der Gracht, Daniel Greenfield-Campoverde, Gordon Hall, Constantin Hartenstein, Florian Hetz, David Hockney, Andrew Holmquist, Karl Holmqvist, Kerstin Honeit, Christa Joo Hyun D'Angelo, Maren Karlson, Svenja Kreh, Sholem Krishtalka, Martin Maeller, Anastasia Muna, Kayode Ojo, Przemek Pyszczek, Karol Radziszewski, Jimmy Robert, Aura Rosenberg, Michael Rocco, Oskar Schmidt, Miray Seramet, Dimitri Shabalin, Andrzej Steinbach, Daniel Topka, Anna Uddenberg, Young Boy Dancing Group, Young-jun Tak, Peter Welz, Queer Zines from the collection of Philip Aarons and Shelley Fox Aarons co-organized by Dr. Peter Rehberg and Schwules Museum
Co-curated by Justin Polera and Aleksandr Blanar
"Queer is a continuing moment, movement, motive–recurrent, eddying, troublant. Keenly, it is relational, and strange."(1)
The exhibition A Strong Desire explores body politics and the commodification of relationships and sexual identity whilst living under a capitalist regime. The exhibition sets out to challenge heteronormativity and toxic masculinity by presenting artworks that present a kind of deterritorialization from this – through reevaluating power structures, slipping through the cracks of gender constructs, and for some, ultimately escaping the material body altogether through dreams, fantasy, and altered states of mind.
I know how cold your body is, I burnt my hands on it
I know how cold your body is, I burnt my feets on it
I know how cold your body is, I burnt my eyes on it
I know how cold your body is, I burnt my heart for it
–Oklou, "Friendless", from the album The Rite of May
I want to tell you some of the things I have desired, but I am trying to navigate through a reality where desires are constructed for us to grasp on to, like Rapunzel's braid reaching down to the bottom of a dark well, promising hope and light once we start climbing. I have fallen for many of these constructs and bought into them. It has given me pleasure to buy clothes, make-up, healthy vegan food, books – all things that I could use to groom my image into what I want it to be. The idealized version of myself is toned, glowing, busy but able to make time for friends and deep relationships – a real catch.
I have desired to be in relationships as cutting and tragic as the poetry of the Romantics. After my imaginary lover dies, I want to cut my hair and wear black for six years like Fanny Brawne.
"It is my desire I desire, and the loved being is no more than its tool." – Roland Barthes, A Lover's Discourse: Fragments, 1977
Small details of past others reveal themselves to me in the present. I have desired:
a chipped front tooth
a patch of skin on a thigh newly shaved, surrounding a fresh tattoo
an old t-shirt in a vacuum sealed envelope sent to me from China, that the other had
slept in for a few days, still sweat-scented
skin softer and hairier than mine
a voice recording of the words "good night"
complete anonymity
I hold on to these momentary disruptions, too instantaneous to be normalized.
(1) Maggie Nelson quoting Eve Kosofsky Sedgwick in The Argonauts , 2015
Curatorial Text by Christina Gigliotti
PS120
Potsdamer Straße 120
10785 Berlin
Thur.–Sat.,11 AM–6 PM and by appointment

têtê Berlin
/ / / July 23 2018 / 8pm / / / /
PICTURE BERLIN, founded in 2009, is a not for profit artist-initiated hybrid residency/art academy. PICTURE BERLIN currently offers two residency sessions; 7 week Summer Session and 10 day Fall Session.
têtê
Schönhauser Allee 161A
10435 Berlin
Schwules Museum Berlin
/ / / July 6 2018 / / /
Wir laden zum Daphne – Lesben Kunst Salon ein, um in Artist Talks, Vorträgen und Performances die Ausstellung Lesbisches Sehen zu reflektieren. Im Salon wollen wir in lockerer Atmosphäre über "lesbische" Sujets, Frauen* in der Kunst und Kunstgeschichte, die Darstellung von queerer Sexualität aus nicht-heteronormativer Perspektive und die Möglichkeit eines anderen feministischen Blicks auf Weiblichkeit_en und Körper, diskutieren.
Im Juli geht die Reihe weiter mit einem Artist Talk mit den Künstlerinnen Kerstin Honeit und Noemi Yoko Molitor. Sie sprechen darüber, welche Perspektiven ihre Arbeiten in der Ausstellung eröffnen und wie sie ihre Arbeit im aktuellen Diskurs über queere Kunst situieren.
Talk: July 6, 6.30pm
Schwules Museum
Lützowstraße 73
10785 Berlin
Baerenzwinger Berlin
/ / / June 29 2018 / / /
The architecture of the Bärenzwinger constructs a specific reality: Movements and encounters between bears and humans were regulated through perfect mechanisms: Security grating systems determined the animals' path, and keepers would operate them, thus maintaining the scenery in the outdoor enclosures for the visitors' view.
Today, these systems form the backdrop for another staging of movement and a new choreography of encounter. To what extent does architecture structure the relationship between humans, animals and objects? How is behavior shaped by spacial structures, and how can these established conditions be disrupted and re-negotiated?
In the exhibition Swinger, former demarcations are revised. The mechanically animated installation Pagodenwackeln by Pätzug / Hertweck moves throughout the interior and exterior of the Bärenzwinger and challenges a positioning in relation to the space and its voids. In Kerstin Honeit's Video work Panda Moonwalk or Why Meng Meng Walks Backwards, human and inhuman bodies actively and resistantly assert themselves in the context of social injustices. The works touch, overlap, interrupt each other and outline modifiable structures, so that the Bärenzwinger's construction of eality collapses and can be re-interpreted in a never-completing loop.
Curated by Stefan Aue, Anne Hölck and Jessica Páez
Finissage: June 29, 7pm
with Lecture Performance by Prof. Dr. Stefanie Wenner and music by Frinda di Lanco
Baerenzwinger
Im Köllnischen Park
10179 Berlin
Rencontres Internationales Berlin at Haus der Kulturen der Welt
/ / / June 23 2018 / / /
Bjørn Melhus examines today's post-socialist Vietnam by connecting two past media events: images from the Vietnam War in the 60s, the first war broadcast as a TV show, and, at the same time, the earth seen from the moon, an iconic image of global ecological awareness. Mauricio Saenz questions the value attributed to remnants of the past, and what remains of this ideal in the present. Past utopias seem unable to resist existing forces. Dan Boord and Luis Valdovino interpret Gertrude Stein's idea according to which it is typically American to design a space overloaded with movement. Dan Boord and Luis Valdovino therefore present a world, from the footsteps of 19th century pioneers to remote drive-ins in landscapes in Utah or Arizona. Through reflections Rawane Nassif examines the Venice neighbourhood in Qatar. Kerstin Honeit proposes a retro talk show in a studio made of concrete and metal rods, the framework of a Prussian castle under construction on the site of the former East German Parliament. Masbedo addresses heritage and cultural transmission, and the fragile relationship with culture. In Cairo Dunne Bryony follows Ahmad Ali Badawi, a writer, translator and researcher, who describes himself as an eternal student. His surroundings, the spaces through which he passes, are indications of what remains, within the impermanence of lives and things.
Screening: June 23, 9pm
Haus der Kulturen der Welt
Rencontres Internationales Berlin
John-Foster-Dulles Allee 10
10557 Berlin
TALK
f_talks – Vortragsreihe
Universitaet der Kuenste Berlin
/// May 24 2018 ///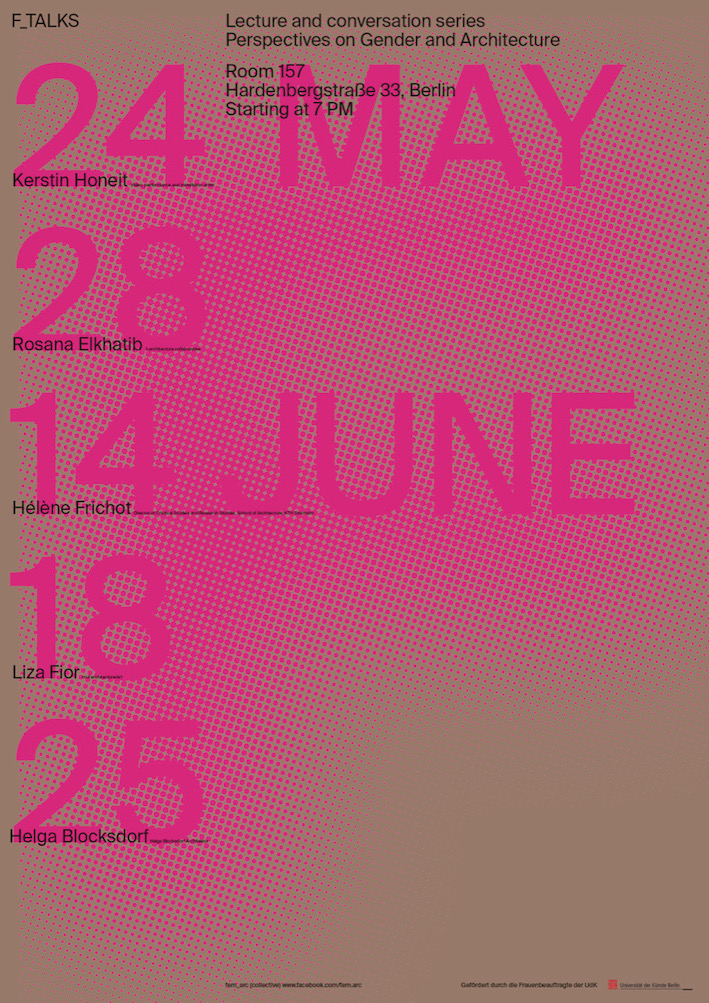 Mit den f_talks wird ein Raum geschaffen, endlich ein Gespräch zu provozieren und weibliche Perspektiven sichtbar zu machen. Die Vorträge finden auf deutsch und englisch statt.
Im Zuge der öffentlichen Debatte und des aktuellen Genderdiskurses in verschiedenen Berufsfeldern sehen wir uns dazu veranlasst als Studentinnen der Architektur an der Universität der Künste aktiv zu werden. Die Architektur ist immer noch ein männlich dominiertes Feld. Das Ungleichgewicht in der Genderverteilung in dieser Profession ist nicht nur an Universitäten auffällig, sondern auch in gängigen Veranstaltungsformaten sowie in Ausstellungen und bei Auszeichnungen. Es fehlt an weiblichen Vorbildern.
Vortragende: Kerstin Honeit
In ihrer künstlerischen Forschung untersucht sie in Form von Videoarbeiten, Performances und Installationen die Produktion hegemonialer Bilderwelten in den Medien der Informationsgesellschaft und Popkultur. In ihren jüngsten Arbeiten bildet vor allem die Auseinandersetzung mit Architekturen den Ausgangspunkt zur Befragung von Konstruktionen gesellschaftlicher Normen.
Der Vortrag wird auf deutsch gehalten.
May 24, 2018, 7pm
Universitaet der Kuenste
Gebäude Hardenbergstraße
Hardenbergstraße 33
10623 Berlin
Baerenzwinger Berlin
/// May 19–July 1st 2018 ///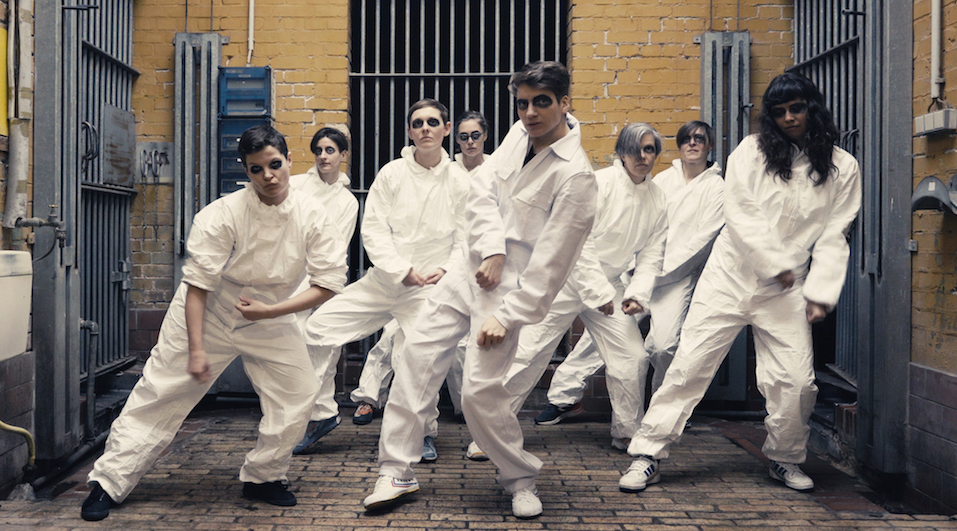 Kerstin Honeit and Valentin Hertweck + Irene Paetzug
The architecture of the Baerenzwinger constructs a specific reality: Movements and encounters between bears and humans were regulated through perfect mechanisms: Security grating systems determined the animals' path, and keepers would operate them, thus maintaining the scenery in the outdoor enclosures for the visitors' view.
To what extent does architecture structure the relationship between humans, animals and objects? How is behavior shaped by spacial structures, and how can these established conditions be disrupted and re-negotiated?
In the exhibition "Swinger", former demarcations are revised. The mechanically animated installation "Pagodenwackeln" by Pätzug / Hertweck moves throughout the interior and exterior of the Bärenzwinger and challenges a positioning in relation to the space and its voids.
In Kerstin Honeit's Video work Panda Moonwalk or Why Meng Meng Walks Backwards, human and inhuman bodies actively and resistantly assert themselves in the context of social injustices. The works touch, overlap, interrupt each other and outline modifiable structures, so that the Baerenzwinger's construction of eality collapses and can be re-interpreted in a never-completing loop.
Curated by Stefan Aue, Anne Hölck and Jessica Páez

Baerenzwinger
Im Köllnischen Park
10179 Berlin
Hours
Tuesday–Sunday 12–6 pm
Schwules Museum Berlin
/// May 10–August 20 2018 ///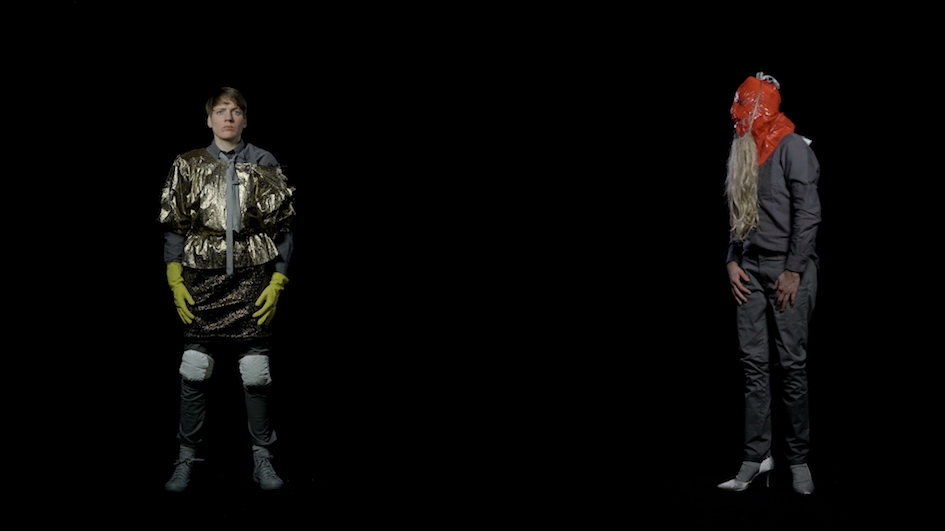 Lou Albert-Lazard, Ursula Bierther, Gisela Breitling, Kerstin Drechsel, Martina Minette Dreier, Leonor Fini, Yori Gagarim, Susu Grunenberg, Nilbar Güres, Grit Hachmeister, Renate Hampke, Lena Rosa Händle, Corinna Harl, Risk Hazekamp, Doli Hilbert, Hannah Höch, Kerstin Honeit, Ingrid Kerma, Evelyn Kuwertz, Lotte Laserstein, Kate Millett, Noemi Yoko Molitor, Gerda Rotermund, Ebba Sakel, Gertrude Sandmann, Ceren Saner, Lene Schneider-Kainer, Sarah Schumann, Simon & Simone, Renée Sintenis, Milly Steger, Erika Stürmer-Alex, Anja Weber, Augusta von Zitzewitz
The exhibition LESBIAN VISIONS brings into view artistic positions by queer FLTI* (females, lesbians, trans, inter) from over 100 years and displays works by more than 30 artists across six generations. As part of the annual theme Year of the Women* the Schwules Museum undertakes a first attempt to acknowledge these artists and their work. We present a "hidden museum" of queer art from a perspective beyond hegemonic masculinity: a milestone, not only for the "Gay" Museum, whose foundation originated in the exhibition Eldorado. Homosexuelle Frauen und Männer in Berlin 1850–1950 (Eldorado. Homosexual Women and Men in Berlin 1850–1950).
LESBIAN VISIONS references legendary exhibition projects by feminist cultural activists, for instance Künstlerinnen International 1877–1977 (Female Artists International 1877–1977) in (West) Berlin, in 1977, initiated by Ursula Bierther, Evelyn Kuwertz, and Sara Schumann, amongst others. Another inspiration is the groundbreaking exhibition Das Verborgene Museum (The Hidden Museum) from 1987, which documented women's art in the Berlin art collections and was curated by Evelyn Kuwertz, Gisela Breitling and others. LESBIAN VISIONS was inspired as well by the Great American Lesbian Art Show (GALAS) in the Woman's Building in Los Angeles, in 1980, with works by artists such as Tea Corinne, Harmony Hammond, and Kate Millett.
These projects were programmatic for the struggle of FLTI* people for representation in the art world. They equaled a protest against the uneven distribution of economic and cultural capital which are still determined by heteronormativity, gender binarism, class relations and racism.
The exhibition project was motivated by the observation that there are hardly any "lesbian" subjects in art history as well as by the question what we should look for: The self-definition of the artist? The content or form of an art work? The production conditions, the social contexts giving rise to art? Or the interpretations by the beholder? How can we perceive anything from a "lesbian" perspective in a culture fundamentally defined by the "male gaze's" regime? Or would or should we rather use the term "queer" in discussing all this today?
The exhibition conceptualizes a utopian and melancholic gallery that follows the tracks of lesbian forms of pleasure and experience as well as lesbian identity constructions and lifestyles. In this context, we understand and recognize the term "lesbian" in its broadest sense, which is to say that desire and gender can be fluid.
curated by Birgit Bosold and Carina Klugbauer

Schwules Museum
Lützowstraße 73
10785 Berlin
Hours
Sunday, Monday, Wednesday & Friday 2–6 pm
Thursday 2–8 pm, Saturday 2–7 pm
Tuesday closed
Rencontres Internationales Paris and Fajr International Film Festival Tehran
/// April 11 (Tehran) April 14 (Paris) & 17 2018 ///
my castle your castle at the Fajr International Film Tehran
April 11 2018
No. 2454, Valiasr St., Tehran, Iran
my castle your castle at Rencontres Internationales Paris
April 14, 5.30pm
Forum des images
Forum des Halles, 2 Rue du cinéma, 75001 Paris
HaoHaus in Taipei
/// 8–April 29 2018 ///
Fei Hao Chen, Núria Güell, Yu Pin Guo, Kerstin Honeit, Che Yu Hsu, Verena Kyselka, Yi Chi Lin, Clara Winter .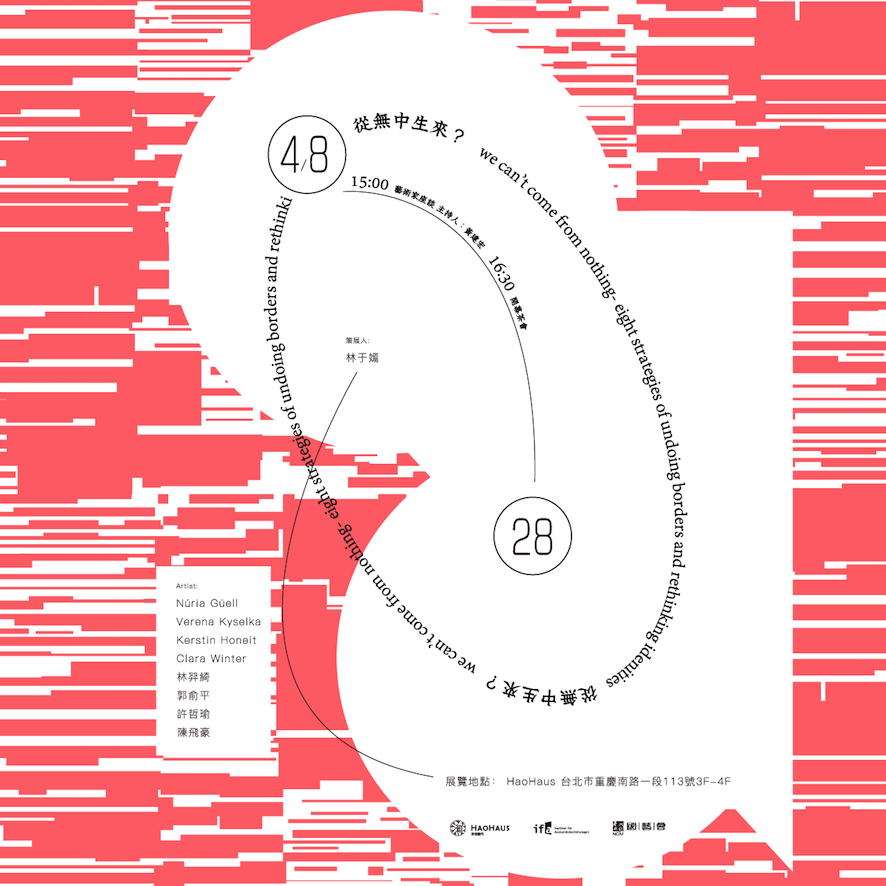 The common practice of territorial demarcation creates categories of identity, which secure alleged claims of inclusion and exclusion, separate and prevent geographical and social cohesion. This hegemonic system of categorisation will be examined through the work of eight different artists.
The curatorial concept for the exhibition seeks to challenge this local and global principle of division, propose a critical debate about border demarcation and encourage collective consideration of a possible coming together. It seeks to transcend geographic, cultural and social borders and beyond the 'divide and rule' method, which is sadly enjoying a renaissance through the global acquisition of power by popular scaremongers.
Concepts like nation, gender and class are interrogated in the exhibition by the artists with their multiple, transnational perspectives and widely different backgrounds and treated as constructions rather than read as incontrovertible facts.
The exhibition We can't come from Nothing presents four European artistic positions that deal critically with border demarcations in relation to national security (Núria Güell), the history of a divided Germany (Verena Kyselka and Kerstin Honeit) as well as post-colonialism (Clara Winter), while simultaneously demolishing gender boundaries. Four further viewpoints from Taiwan are represented that look at the topic of borders from a local and site-specific perspective, contextualising the exhibition within the complex political and territorial fabric of the regional context with their local expertise (Fei Hao Chen, Che Yu Hsu, Yu Pin Guo und Yi Chi Lin).
curated by Yen Lin-Woywod
HaoHaus Taipei
NO.113
Sec.1,Chongqing S.Rd.
Taipei City 100
Taiwan
Hours
11:00–19:00
(Mondays & holidays closed)
AWARDED
Special Mention for my castle your castle
at the Stuttgarter Filmwinter – Festival for Expanded Media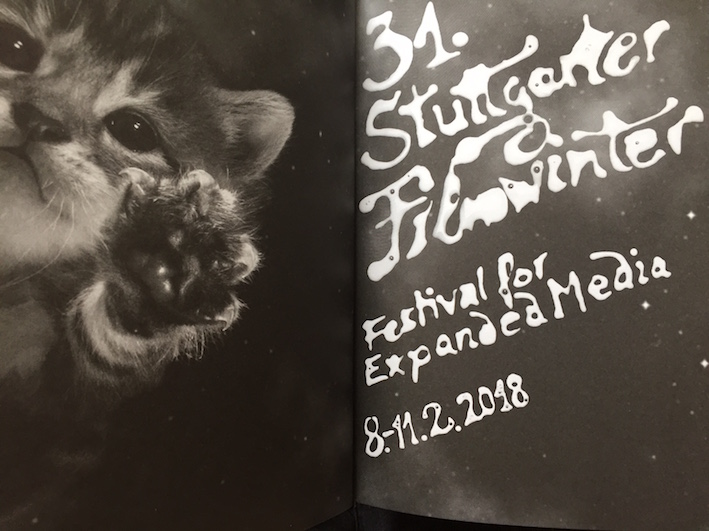 February 11, 2018
The experimental documentary short my castle your castle will be awarded with the "Special Mention" by the jury of the International Competition 2018 at the Stuttgarter Filmwinter – Festival for Expanded Media.
Award Ceremony
31. Stuttgarter Filmwinter – Festival for Expanded Media
Wilhemspalais, 70182 Stuttgart
February 11, 2018, 7pm
SixtyEight Art Institute in Copenhagen
/// November 24 2017–January 27 2018 ///
Bini Adamczak, Kader Attia, Kerstin Honeit and Michala Paludan.
A sketch for conversations proposed by Suza Husse.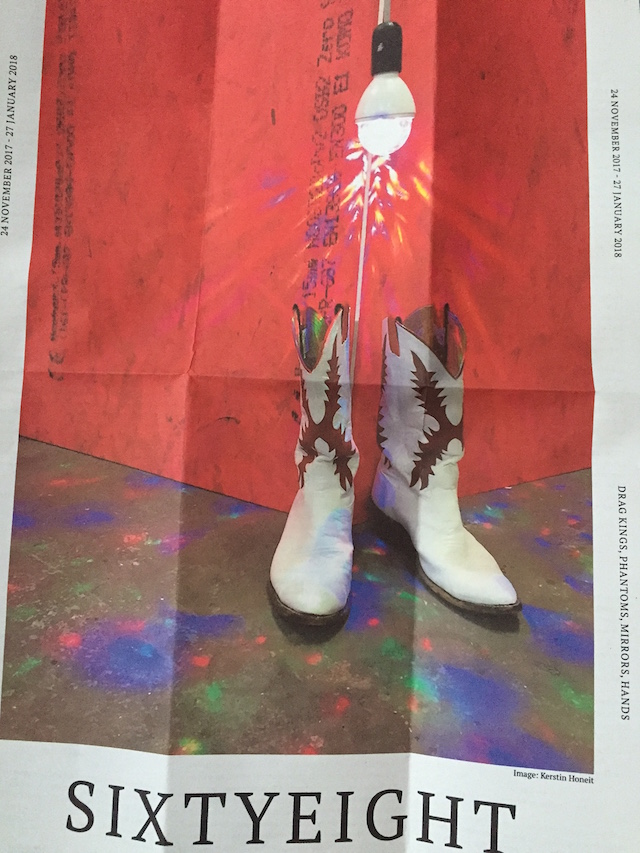 Drag Kings, Phantoms, Mirrors, Hands (one hundred years of dis/appearances) is a constellation that resonates some of the historical entanglements and queer potentials that flicker in 1917 2017 and between. What follows is a bumpy line of thought towards what can be thought of as a sketch for conversations, not a concept, but hopefully something that gives you a feeling of the field of relations that we can enter together.
It begins on November 24 and 25 at SixtyEight Art Institute in Copenhagen, and is nurtured by the recent works of artists and writers Bini Adamczak, Kader Attia, Kerstin Honeit and Michala Paludan. Drag Kings, Phantoms, Mirrors, Hands (one hundred years of dis/appearances) is a sketch for conversations with the spectres of the (queer, communist, colonial, feminist, imperial) histories these works carry; for tellings and re-imaginings that emerge from unforeseen relations drawn between documents of feminist history in Arbejdermuseet (the workers' museum) in Copenhagen and the disappeared Palast der Republik in Berlin, between the Prussian castle being re-built in its very place and the phenomenon of phantom limbs in the human psyche, between the mirrors used to repair the imagination while keeping injuries and absences present, and the glitter of camp cowboys dancing to the demolition of imperial castles, between the Drag Kings of the Russian revolution and the emergence of Jamaican Dub music, between the decentralization of speech in feminist organizing and the embodiment of ghosts in the architectures of our times.
Hoping that you will join the listening, talking, thinking, mourning and laughing.
Opening
Friday, 24 November 2017
18.00–21.00
Kerstin Honeit, my castle your castle
Video Installation, 2017
Bini Adamczak, Gender and the new man: Emancipation and the Russian Revolution? and On Circlusion
Texts, 2013 and 2016
Saturday, 25 November 2017
14.00–16.00
Michala Paludan, Cyklus
Collaborative presentation of excerpts from the installation
16.00–17.00
Kader Attia Reflecting Memory
Video essay, HD, color, sound, 45:56 min, 2017
Kerstin Honeit, my castle your castle
Video installation, HD, color, sound, 15 min, 2017
17.30–19.00
Kerstin Honeit, Suza Husse and Michala Paludan
Conversation
25 November 2017–27 January 2018
Exhibition
Opening hours: Wed–Fri 11–18, Sat 13–17
SixthyEight Art Institute
Gothersgade 167
1123 Copenhagen
Danemark
Kasseler Dokfest and Short Film Festival Cologne
/// November 16+17 2017 ///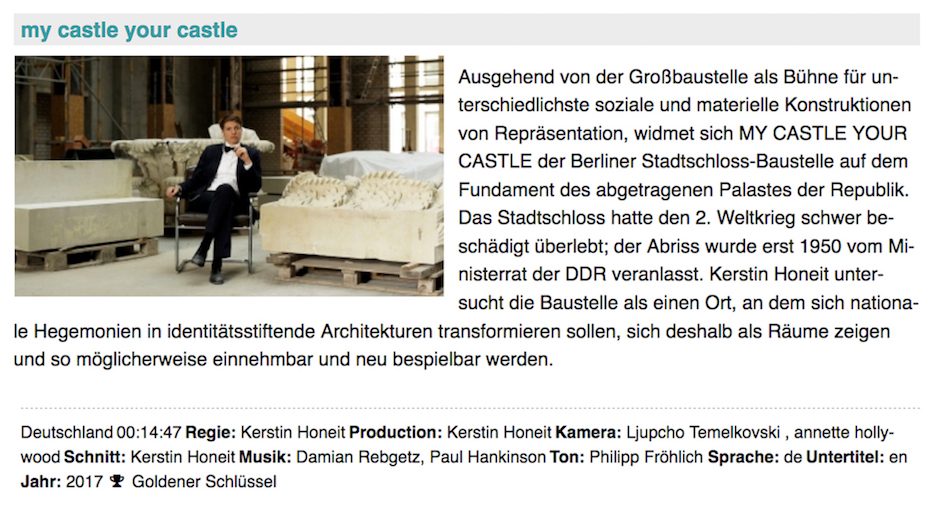 my castle your castle at the Kasseler Dokumentarfilm und Videofest
Thursday November 16, 12am
BaLi Cinema, Rainer-Dierichs-Platz 1, 34117 Kassel, Germany
my castle your castle at the Kurzfilm Festival Cologne, Germany
Friday November 17, 9pm
Museum Ludwing / Filmforum
Bischofsgartenstraße 1, 50667 Köln, Germany
PANEL Fast & Furious & Female*
Die neue Unruhe in der Geschlechterlandschaft Film.
Drei Diskussionen zu Strategien.
/// November 9 2017 ///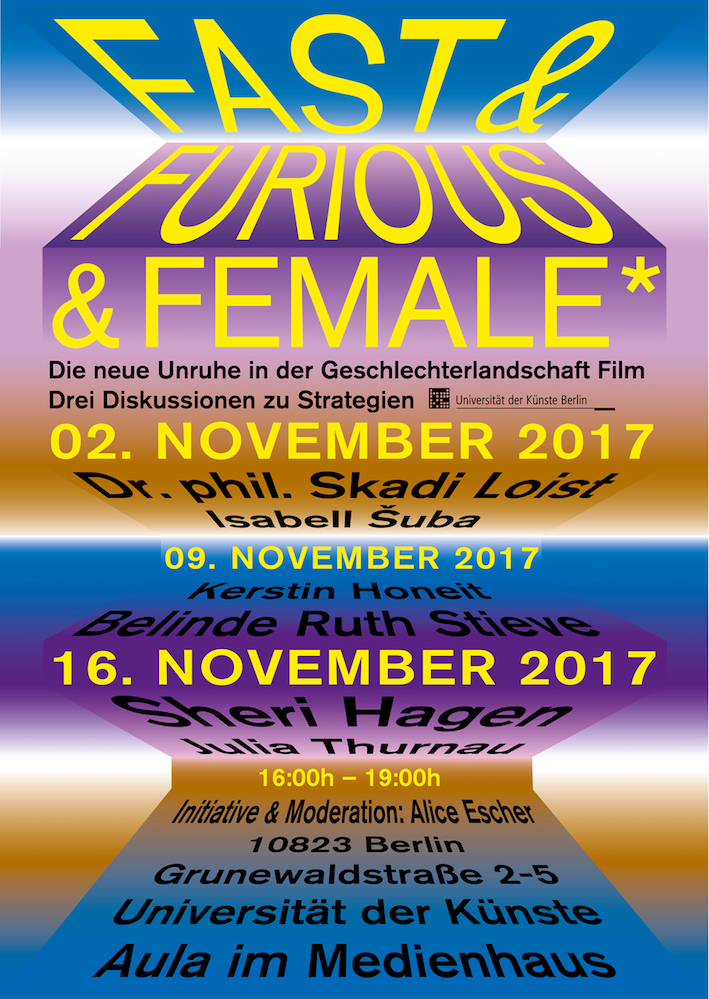 Die Veranstaltung beleuchtet die Geschlechter-Ungerechtigkeiten hinter der Kamera, bei der Filmproduktion und die einschränkenden Genderrollen vor der Kamera innerhalb der Narration. In beiden Bereichen hat sich in den letzten Jahren eine aktivistische, kritische Diskurslandschaft entwickelt, sowohl bei Filmkonsument_innen als auch bei den Filmemacher_innen, die alternative Produktionsweisen gegen die üblichen Machtstrukturen im Filmbetrieb etablieren.
In drei Veranstaltungen soll den Studierenden die Möglichkeit gegeben werden durch persönliche Einblicke und konkrete Statistiken ihren Blick auf Film zu sensibilisieren. Durch die vortragenden Gäste werden konkret Hinweise auf bestehenden aktivistische Initiativen (z.B. Pro Quote Regie) und unterstützende Angebote (z.B. INTO THE WILD mentoring programm) gegeben und zusammen mit dem Publikum bei den Diskussionen Alternativen entworfen werden.
Gäste:
Isabell Šuba, Spielfilmregisseurin, Initiatorin des INTO THE WILD-Mentoring-Programms
Dr. phil. Skadi Loist, wissenschaftliche* Mitarbeiter*in, Institut für Medienforschung der Universität Rostock
Belinde Ruth Stieve, Schauspielerin, unabhängige Empirikerin, Expertin für Diversitätswandel
Kerstin Honeit, Künstlerin, Dozentin, Kunsthochschule Kassel
Julia Thurnau, Schauspielerin, Regisseurin, Künstlerin
Sheri Hagen, Schauspielerin, Autorenfilmerin, Produzentin
Moderation & Initiative:
Alice Escher, Medienkünstlerin, Kunstvermittlerin
Termine:
2. November, 9. November, 16. November 2017
4–7pm
Medienhaus, Grunewaldstraße 2–5, 10823 Berlin
TEXTE ZUR KUNST Fiona McGovern
/// September 2017, Issue 107 ///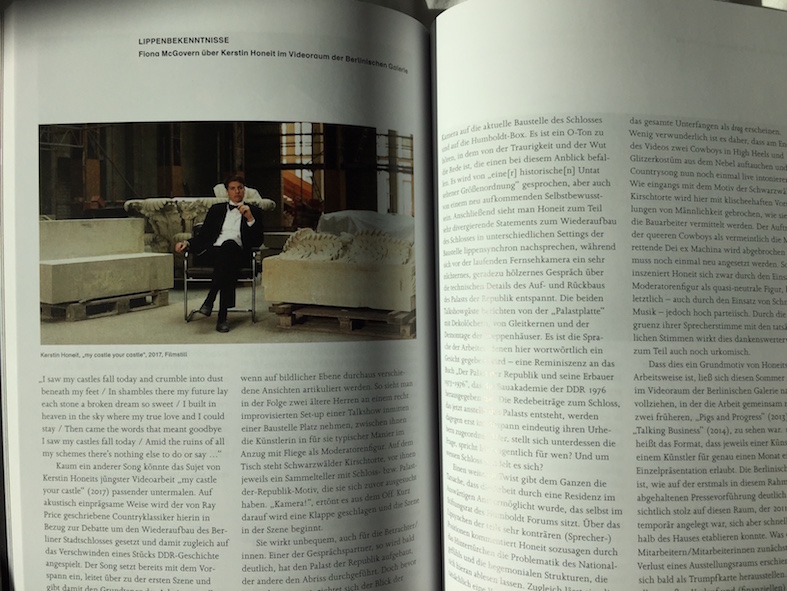 In her article Lippenbekenntnisse, Fiona McGovern writes in this quarter's edition of Texte zur Kunst about Kerstin Honeit's exhibition in the video room of the Berlinische Galerie – Museum of Modern Art.
This issue's description:
"Identity politics" has always been beleaguered territory. Yet recently the debate around "identity" has intensified and (with Trump) even developed new fronts. This issue examines the present state of identity politics in the West, finding the commodification of identity in mass culture (as in the art market) to be a leading influence. We also recognize a divide between, on the one hand, non-dominant communities cohering around identity so as to become visible together; and on the other hand, individuals aiming to stand out as special or "unique" by dint of membership in various non-dominant groups. Such ambiguity, in the face of current leadership (see issue cover) lends only all the more urgency, we feel, for a serious engagement with "identity" vis-a-vis "politics" now.
TEXTE ZUR KUNST
September 2017 / Heft 107
ISBN 978-3-946564-06-5 / ISSN 0940-9596
3 Video Works at 12 x 12 Video Room
/// 28 June–24 July 2017 ///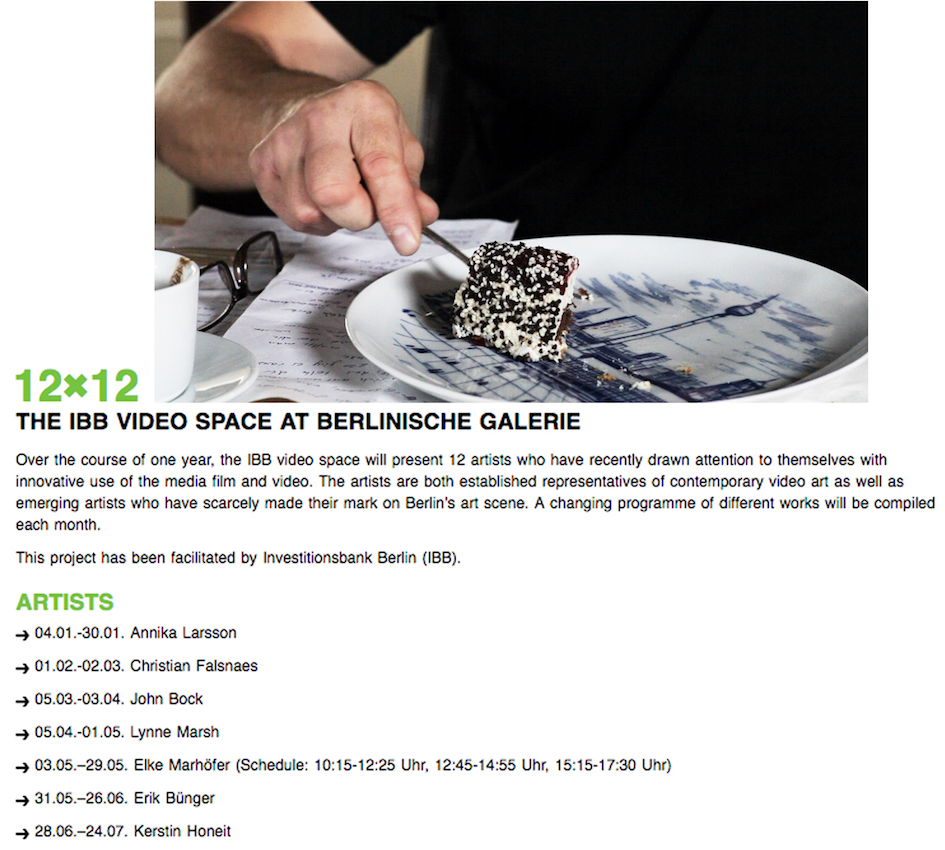 Berlinische Galerie – Museum of Modern Art
Alte Jakobstraße 124–128
10969 Berlin Germany
Wednesday–Monday 10 am–6 pm
Tuesday closed
ART FAIR tape/basel
my castle your castle at tape/basel (photo basel)
/// 14–18 of June 2017 ///
tape/basel
We are pleased to introduce tape/basel, a new sector of photo basel devoted entirely to the moving image. This first edition of tape/basel features recent international works programmed by photo basel Director Sven Eisenhut and freelance Canadian and Swiss Basel-based Curator Chantal Molleur.
tape/basel is also inviting for this preview launch edition, a special guest, Basel gallery balzer projects. tape/basel featured artists are Mika Taanila (FIN), Kerstin Honeit (GER), Olivier Cheval (FR), Almond Chu (CN), Yvon Chabrowski (GER), Chou Ching-hui (CN), Stacey Steers (USA), Nemanja Nikolic (RS) and Deborah Oropallo (USA). These artists are concerned with issues related to performance, archival and found footage, 3D animation, animated collage and animated photo-montage. We are delighted to partner with photo basel exhibiting galleries for tape/basel: Grundermark/Nilsson Gallery Berlin & Stockholm (Germany, Sweden), La Galerie Paris 1839 (Hong Kong), Catharine Clark Gallery (USA) and Galerie Dix9 (France) bringing together photo/basel viewing experience towards the moving image.
Visitors will find tape/basel in the fair's main hall on the balcony overlooking the fair.
photo basel takes place at
Volkshaus Basel
Rebgasse 12–14
4058 Basel
Switzerland
Pigs in Progress at ASFA Athens (documenta14 Public Education)
/// 9th of June 2017///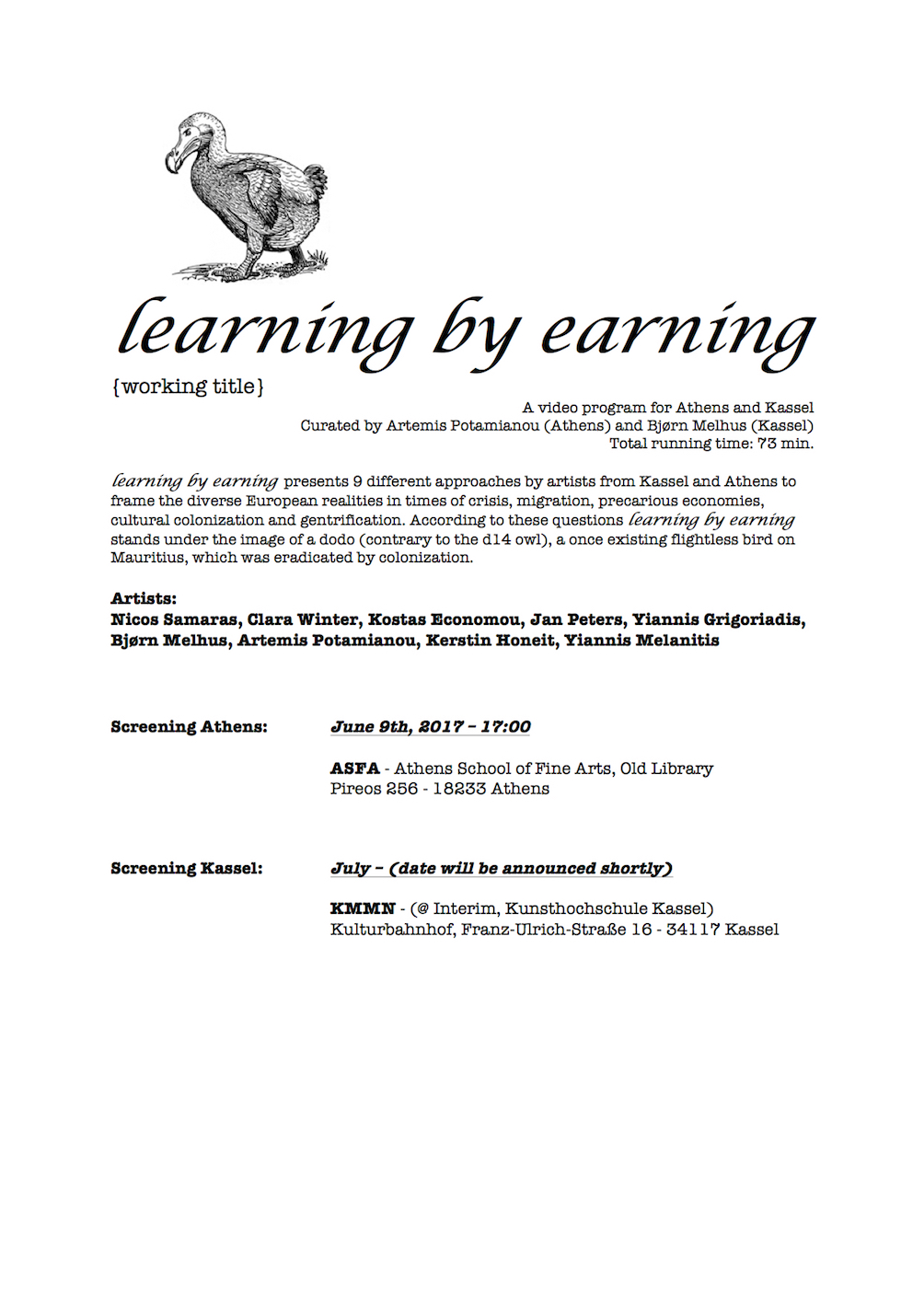 EXHIBITION
my castle your castle at the Musrara Exhibition in Jerusalem
/// 6–8 June 2017 ///
Kerstin Honeit / Exhibition in Public Space
The video my castle your castle investigates the construction site of the Berliner Stadtschloss (the Berlin Castle), a Prussian baroque palace currently being rebuilt on the site of the "Palace of the Republic," the now-demolished seat of the GDR's parliament.
While significantly damaged during World War II, the Berliner Stadtschloss survived and was only finally torn down in 1950, following a decision of GDR authorities. Artist Kerstin Honeit looks at this loaded site as a place where national hegemonies supposedly transform into identity-generating architectures, and so appear as spaces which can be conquered and restaged.
The Naggar School of Art
9 HaAyin Het St.
Jerusalem 91323
Special Mention for my castle your castle at the International Short Film Festival Oberhausen
The experimental documentary short my castle your castle was awarded the "Special Mention" by the jury of the German Competition 2017 at the International Short Film Festival Oberhausen.


Jury Statement:
"Based on the debate surrounding the reconstruction of the Berlin City Palace, the film addresses the question of how meaningful historicisation in urban planning is. The result is a surreal and at the same time haunting tableau."
International Short Film Festival Oberhausen
///11.–16. May 2017///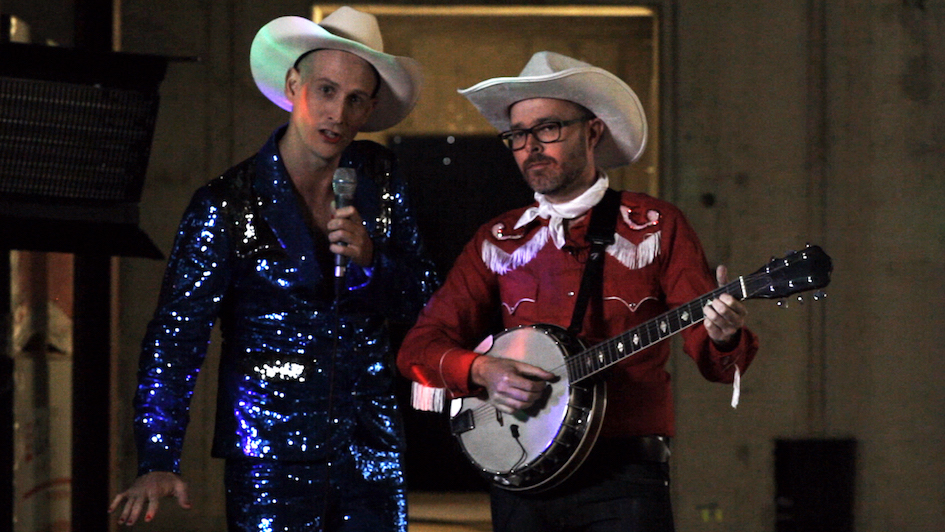 my castle you castle investigates the construction site of the Berliner Stadtschloss, which was rebuilt on the substructure of the recently demolished Palace of the Republic – the parliament of the GDR, as a place where national hegemonies supposedly transform into identity-generating architectures and so appear as spaces which can be conquered and restaged.

International Short Film Festival Oberhausen
Lichtburg Cinema
Elsässer Str. 26
D–46045 Oberhausen

Date of Screening:
Sunday the 14 of May 2017 | 5pm German Competion
A Game between I and me
/// 2. September – 8. October 2016 /// balzer projects Basel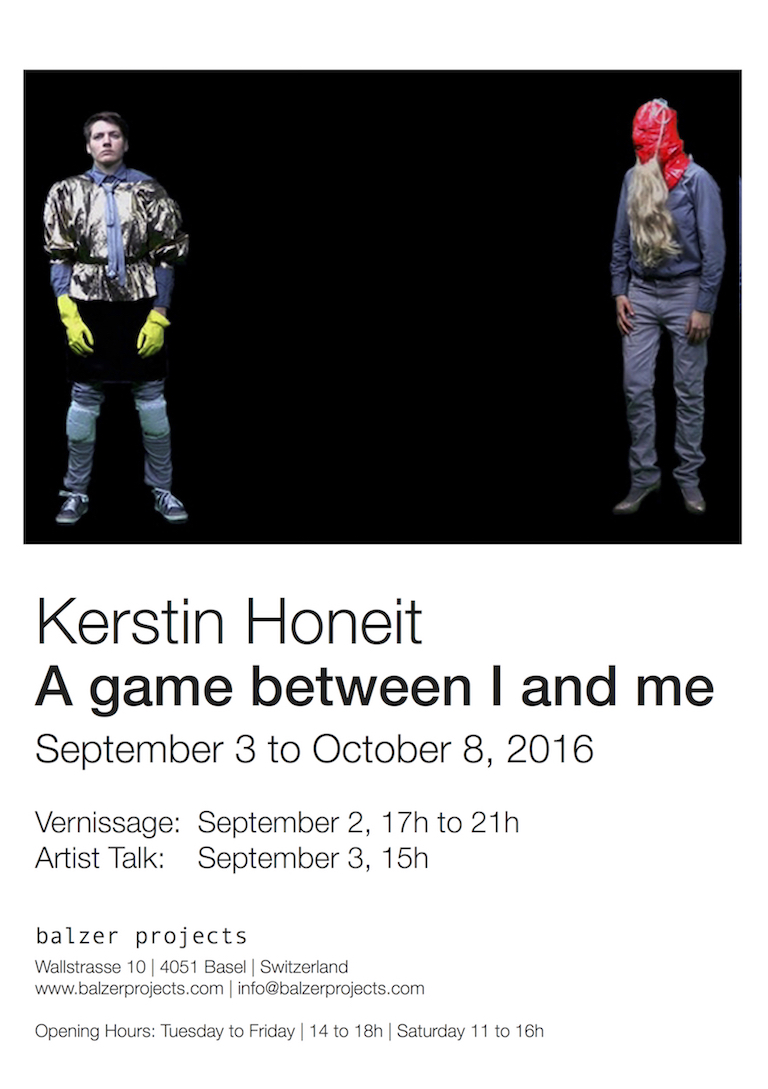 balzer projects
Wallstrasse 10
4051 Basel Opening hours:
Tuesday to Friday | 14 to 18h
Saturday | 11 to 16h and by appointment
1.–3. Person singular / plural
/// 23. July–6. September 2016 ///  Kunstverein Leipzig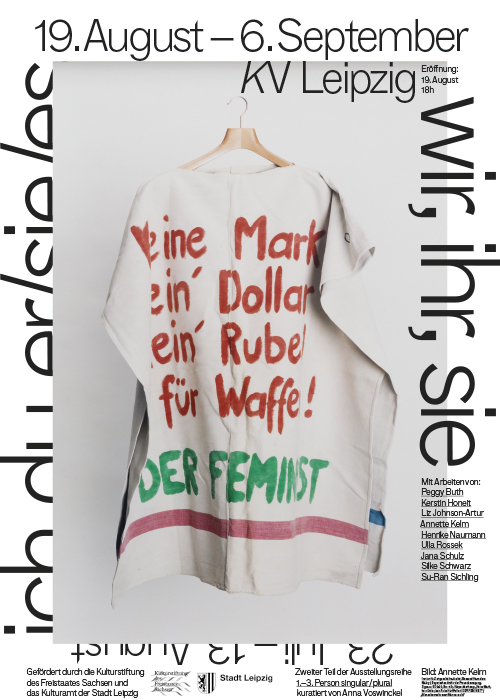 Pauline Boudry & Renate Lorenz, Peggy Buth, Kerstin Cmelka,
Pauline Izumi Colin, Simone Gilges, Olaf Habelmann, Nina Hoffmann,
Kerstin Honeit, Liz Johnson-Artur, Judith Hopf, Nico Ihlein, Annette Kelm,
Heinz-Peter Knes, Jonas Lipps, Kristin Loschert, Markues, Birgit Megerle,
Michaela Meise, Henrike Naumann, Barbara Proschak, Josephine Pryde,
Sabine Reinfeld, Ulla Rossek, Jana Schulz, Silke Schwarz, Heji Shin,
Su-Ran Sichling, Anna Voswinckel, Suse Weber.
Die Ausstellung Ich, du, er/sie/es zeigt zeitgenössische künstlerische Positionen zur Frage von Identität und Subjektivierung. Themenfelder wie Selbstbild, Begehren  und Genderkonstruktion werden näher betrachtet. Das Interesse gilt dabei vor allem  der Auflösung oder Verwischung normativer Kategorien.
In der zweiten Ausstellung wir, ihr, sie geht es um Fragen von Identität und Vergesellschaftung.  Untersucht werden Kleinfamilie, Gemeinschaftsrituale, visuelle Praktiken der Abgrenzung  und des Otherings. Die gezeigten Arbeiten verbindet die Suche nach Aufbrüchen und Grenzübergängen,  sowie die Praxis der teilnehmenden Beobachtung und künstlerischen Recherche.
Ausstellungsprojekt 1.–3. Person singular / plural:
ich, du, er/sie/es
23. Juli–9. August 2016
Eröffnung: 22. Juli 18.00

wir, ihr, sie
20. August–6. September 2016
Eröffnung: 19. August 18.00
KV Leipzig
Kolonnadenstrasse 6
RESIDENCY
Aritst in Residence, German Federal Foreign Office
/// 18. July–14. October 2016 ///
Work in Progress – mi castillo tu castillo, mein schloss dein schloss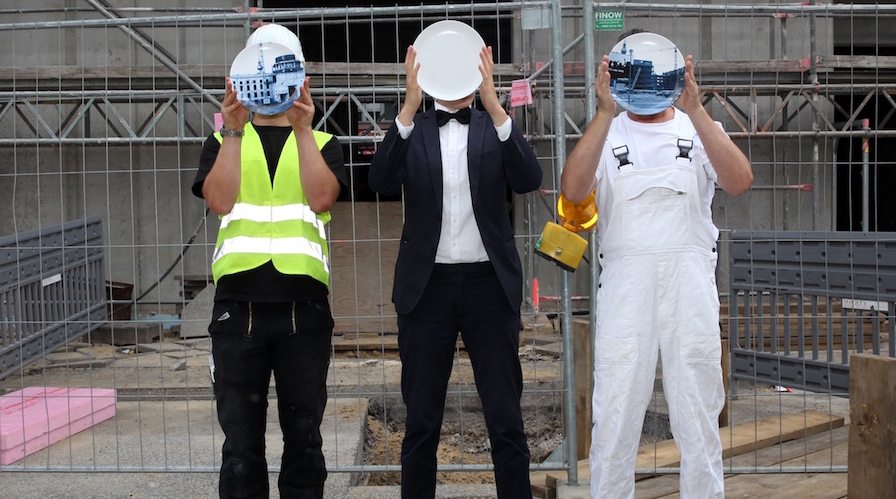 Mit ihrem Residence-Vorhaben, der Recherche für die geplante Videoarbeit mi castillo tu castillo , widmet sich Kerstin Honeit vor dem Hintergrund aktueller Wiederbelebungen nationalstaatlicher Mythen einer Großbaustelle deutscher Geschichte: der umstrittenen Rekonstruktion des Berliner Stadtschlosses auf dem Fundament des Palastes der Republik der DDR.
Ausgehend von der Großbaustelle als Bühne für unterschiedlichste soziale und materielle Konstruktionen von Repräsentation, inszeniert Honeit einen Kaffeekranz mit drei Generationen von Arbeiter*innen; damalige Akteur*innen vom Bau des Palastes der Republik, Akteur*innen von dessen Rückbau, sowie aktiven Akteur*innen des Wiederaufbaus des Preußen-Schlosses. Die Rohbau-Kulisse Stadtschloss und ein singender Cowboy bilden dabei den Rahmen für eine Aufführung von Abriss und Aufbau von Mythen.
Auswärtiges Amt
Werderscher Markt 1
10117 Berlin
Institute for Queer Theory celebrates its 10th anniversary
/// 24. June 2016 ///
Embracing the Ridiculous – an evening dedicated to queer politics laughter
With an art auction, curated by Renate Lorenz, and contributions by Nana Adusei-Poku, Anna Daucíková, Naomi Rincón Gallardo, Giegold & Weiß, Judith Jack Halberstam, Werner Hirsch, Mindj Panther, Gin Müller, Nic Kay, Ismael Ogando, Redecker-Sissies, a concert by Rhythm King and her Friends and DJ*s SchwarzRund, shushu and Kan Chi.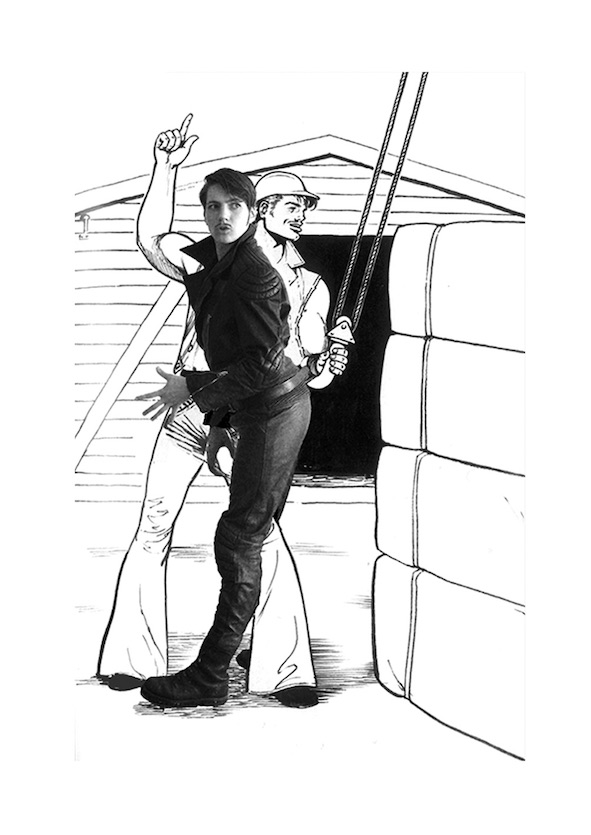 Art auction, contributing artists:
Ana Hoffner, Pauline Boudry & Renate Lorenz, Chris Campe, Emily Roysdon, Giegold & Weiß, Ginger Brooks Takahashi, Hans Scheirl, Henrik Olesen, Julian Göthe, Kerstin Honeit, Laylah Ali, Kelebogile Ntladi, Petra Gall, Sabian Baumann, Tejal Shah
6:30pm – ?
Ballhaus Berlin
Chausseestr. 102
10115 Berlin
SCREENING
Pigs in Progress in Jerusalem at Musrara Mix Festival
/// 24.–26. May 2016 ///
Musrara Mix Festival
The Musrara Mix Festival is an international multidisciplinary event that takes place in the borderline neighborhood of Musrara, initiated and produced by the Naggar School of Art, Musrara. The festival is a hub of artistic and social happenings, embodying the political and cultural essence of Jerusalem and Israel. Every year the festival is based around one theme.
The 16th year of the festival is the year of Translocation-Bio-Art.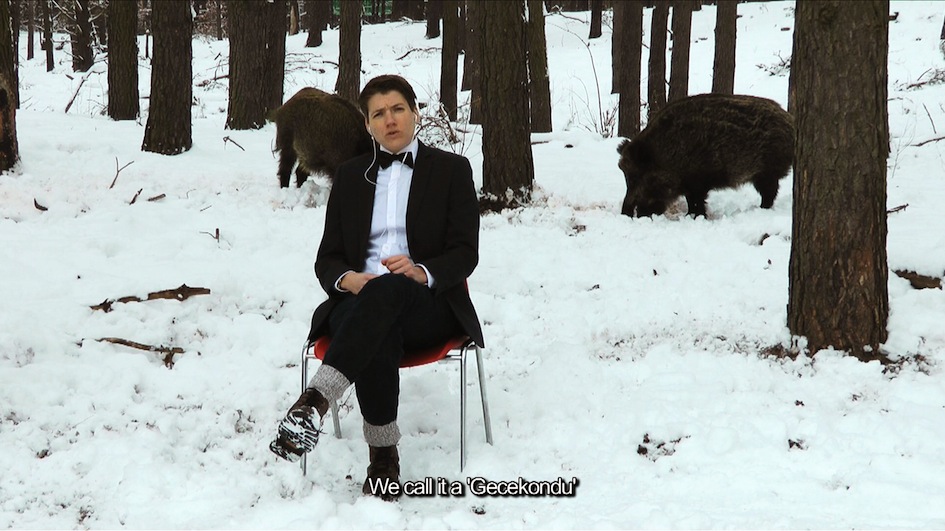 Two phenomena of urban development are connected: Renovation processes that force tenants out of Berlin city center and the experience that suburban homeowners have with wild boars. A playback performance amongst wild boars.
Musrara Mix Festival
24.–26.of May 2016
9 HaAyin Het St.
Jerusalem 91323
curated by Wilbirg Brainin-Dannenberg
Interdisziplinäre Gender-Ringforlesung Sprach / Welten
/// Friday the 15. April 2016 ///
"I turn over the pictures of my voice in my head"
Sprache als Akt der Befreiung in feministischen Avantgardefilmen und Videos

VALIE EXPORT, Sabine Marte, Anne Charlotte Robertson, Eija-Liisa Ahtila, Kerstin Honeit
Neben der speziellen Filmsprache im Avantgardefilm, die bewusst mit den herkömmlichen Sehgewohnheiten und Erwartungshaltungen konfrontiert, kommt gerade im feministischen Avantgardefilm der Sprache, dem Sprechen als kt der Befreiung eine besondere Bedeutung zu. Sei es ganz elementar das Finden der eigenen Sprache, die Reflexion über das Sprechen an sich wie in VALIE EXPORTS Videoarbeit I turn over the picturesof my voice in my head oder auch das Sprechen im Sinne des Ausbrechens aus dem Symbolischem der patriarchalen Kultur als Psychothriller-Poetry-Slam in Sabine Mates b-star untötbar. Oder aber ins Extrem getrieben: wie in Anne-Charlotte Robertsons Performance-Film Apologies, in dem das weiblich konnotierte Entschuldigen zu einem (befreienden) Redeschwall führt. Beispiel einer Sprach(nicht)Findung ist ein eindringlicher Voice-over-Monologe in Eija-Liisa Ahtilas Film Love is a treasure, dessen Ausgangspunkt Interviews mit psychotischen Frauen ist.
In der Collage Ich muss mit Ihnen sprechen reflektiert Kerstin Honeit Sprachermächtigung und gleichzeitig Normierung in von der immer gleichen Synchronsprecherin gedubbten Sätze schwarzer Schauspielerinnen.
Wilbirg Brainin-Dannenberg
Studio 2 (Filmstudio), Institut für Film und Fernsehen
Filmakademie Wien
mdw – Universität für Musik und darstellende Kunst Wien, 3.,
Anton-von-Webern-Platz 1
1030 Wien

Friday 15 April, 4:30–5:45 pm
"Talking Business" at "Projections" ART Rotterdam
/// 11.–14. February 2016 ///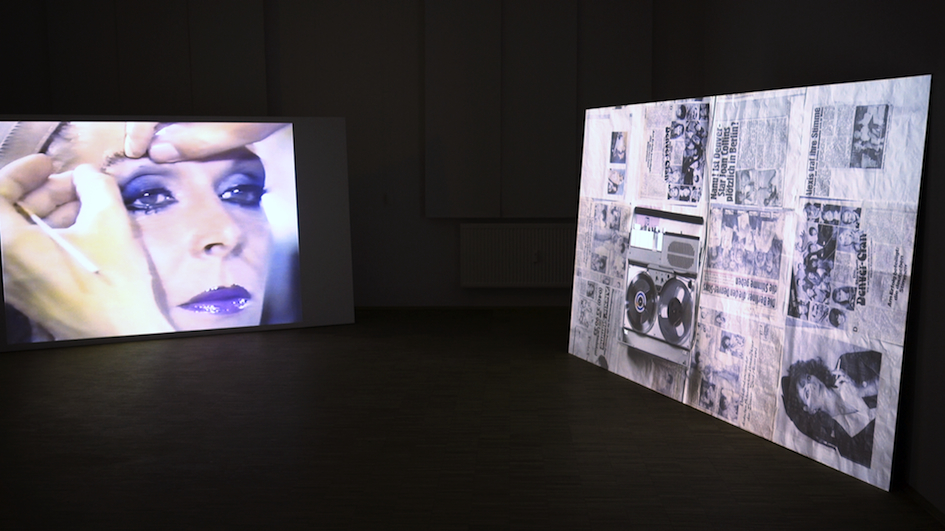 cubus-m is pleased to announce to participate at Art Rotterdam 2016 – Projections.
We will present Kerstin Honeit's work Talking Business.
Video art at Art Rotterdam
The fourth edition of Projections shows large-scale video works
by international artists.
The artist and gallery's 2016:
Shana Moulton – 1646 (NL)
Persijn Broersen & Margit Lukács – AKINCI (NL)
Jakup Ferri – andriesse eyck galerie (NL)
Tamar Guimarães and Kasper Akhøj
Ellen de Bruijne Projects (NL)
Kerstin Honeit – cubus-m (DE)
Els Vanden Meersch – Annie Gentils Gallery (BE)
Liz Magic Laser – Wilfried Lentz Rotterdam (NL)
Hans Op de Beeck – Ron Mandos (NL)
Hajnal Németh – RAM (NL)
Chen Chieh-jen – Galerie Olivier Robert (FR)
Shezad Dawood – Galerie Gabriel Rolt (NL)
Emma van der Put – tegenboschvanvreden (NL)
Art Rotterdam
11–14 February 2016
Van Nellefabriek
Van Nelleweg 1
3044BC Rotterdam
Preview and Opening: 10 February 2016
cubus-m booth 111
SCREENING
Ich muss mit Ihnen sprechen and Pigs in Progress
at Stuttgarter Filmwinter /// 14.–17. January 2016 ///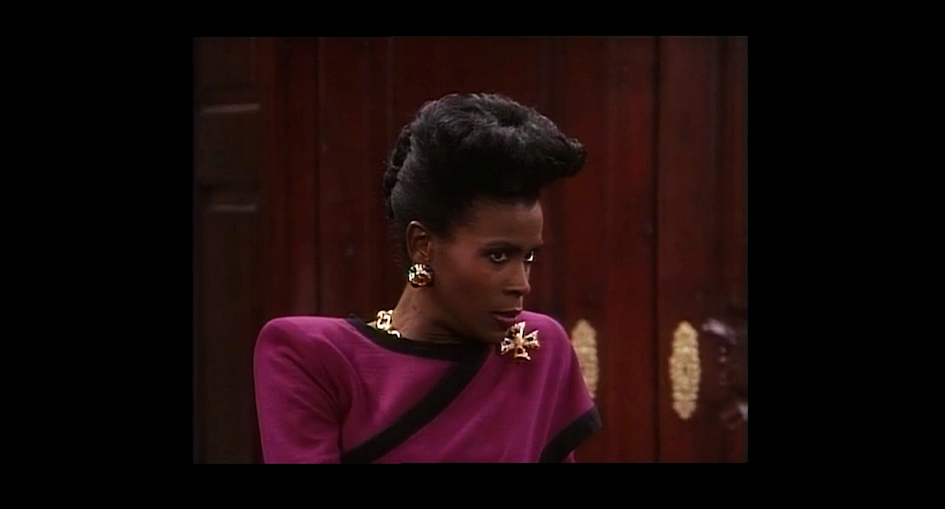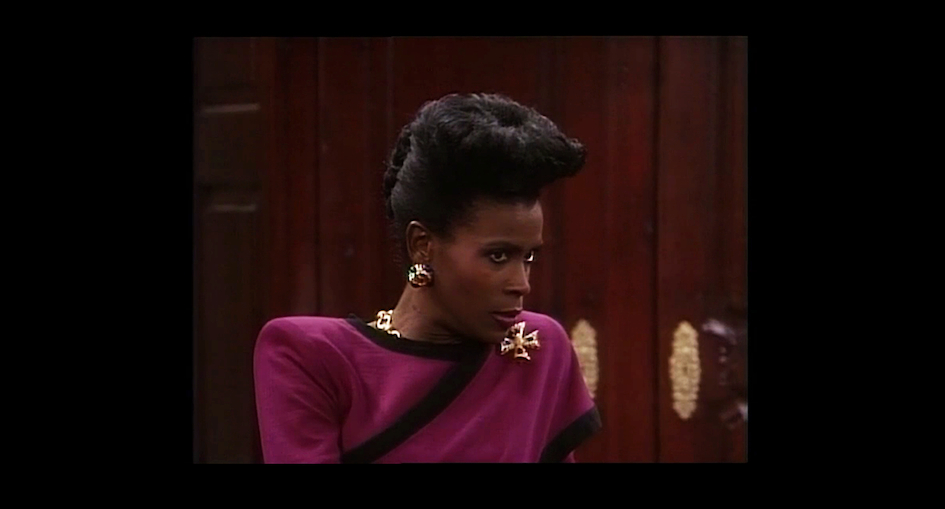 H E A D S
A C T I N G
I N D E P E N D E N T L Y
PART 1 – VISIBILITIES, STRUCTURAL
PART 2 – ECONOMIES, PUSHING
Shifting the shape to resist. Resisting the shifting shapes.
Programmed by Madeleine Bernstorff
In Japanese mythology, shapeshifters are ghosts and demons which are able to transform into something different in a particularly skillful way. Sometimes, they do it so virtuously that they turn it into a shapeshifting competition – like the vixen and the raccoon dog who cleverly transforms into a fresh baked scone with sweet filling and thereby wins against the vixen-turned-princess who cannot withstand the temptation to taste that scone. And there is another story about the giant mushroom monster that wanted to be a proper and glorious monster but instead lives in a house all by himself full of melancholy and eventually is overpowered with hot Miso soup. But the shapeshifters also appear in the form of politicians who turned into reptiles – all conspiracy with quite an amount of kitsch. They are – and they are not.
The spirits of the ghosts come back as morphing revenants referring to pending matters, ruptures, fears and also possibly superior invocations. The stream of commodities in a night full of wafts of mist, of "diffuse consensed milk" (René Pollesch). "It is not certain anymore that a subject is not an object." (Achille Mbembe). Post-disciplinary flexibilisation comes along with short exerted attention rates that speak out in the exuberant Gif-production in (anti-)social media for instance. Click and it starts to fidget – repeatable without limits. Unstable, crisis-burdened conditions are accompanied by tugging requirements of creativity. We should face the disciplining fear to be made redundant which undermines our self-respect with even more self-confidence.
The film and video makers are competing to not only subvert themselves (is that possible after all?) but something supposedly factual. To explore, terminate and x-ray conventional functions and realities holding their ground through power with their form findings: shift, abandon, enhance. To express what has not been told yet and what cannot be made tangible by language alone, this is where the films come in line. They shape something out of a material that has not been put into a form before.
Two programmes: these films feature something about the world and they say: Look closely. And don't fidget too much "in the performances that are life or power" (Pollesch). There are things that can be changed. And they are set in motion if you can see it.
Shape Shifter #6, part 1
17 January 2016–11:30am
Kunstraum34
Ich muss mit Ihnen sprechen
A miniature: phrases of black actresses in mainstream film and TV dubbed into German.
A constant raise of voice and starting to speak questioning acts of speech and authority.
Shape Shifter #6, part 2
17 January 2016 – 3:30pm
Theatersaal, Theater Rampe
Pigs in Progress
A wild boar feeder who's not tolerated and the artist. Gentrification. Eviction from the city centre, tenant wars and the suburban mansion-inhabitants' fear of the wild boars.
AWARDED
Honorary Mention for Talking Business
at Monitoring / Kasseler Dokfest
The 3 channel Installation Talking Business was awarded by the jury of the Monitoring exhibition 2015 at the Kasseler Dokumentarfilm und Videofest:
"In Talking Business, Kerstin Honeit explicitly yet elegantly breaks through the hidden mechanisms of media presentation. Role playing is made obvious, re-staged, interpreted and recycled in form of artistic self-references. Icons are dressed down and cycled back into the whys and wherefores of everyday life. What do we mean when we speak the language of media – and who is speaking?"
EXHIBITION
Monitoring / Kasseler Dokfest
/// 10 –15 November 2015, Kassel ///
Monitoring provides a space for film and video-based installations and other time-based media works of recent years that require presentation formats beyond the classic cinema screen. This year (2015), the jury has selected sixteen works out of 266 international submissions: including works by artists from Germany, Russia, Switzerland, Turkey and the USA. The submissions followed an open call, without pre-set topics or restrictions concerning content or technical media. The works were chosen upon their ability to enfold in a spatial setting and the contemporary relevance of their topics. All works in the exhibition are nominated for the Golden Cube award for the best media installation, which is endowed with 3,500 €.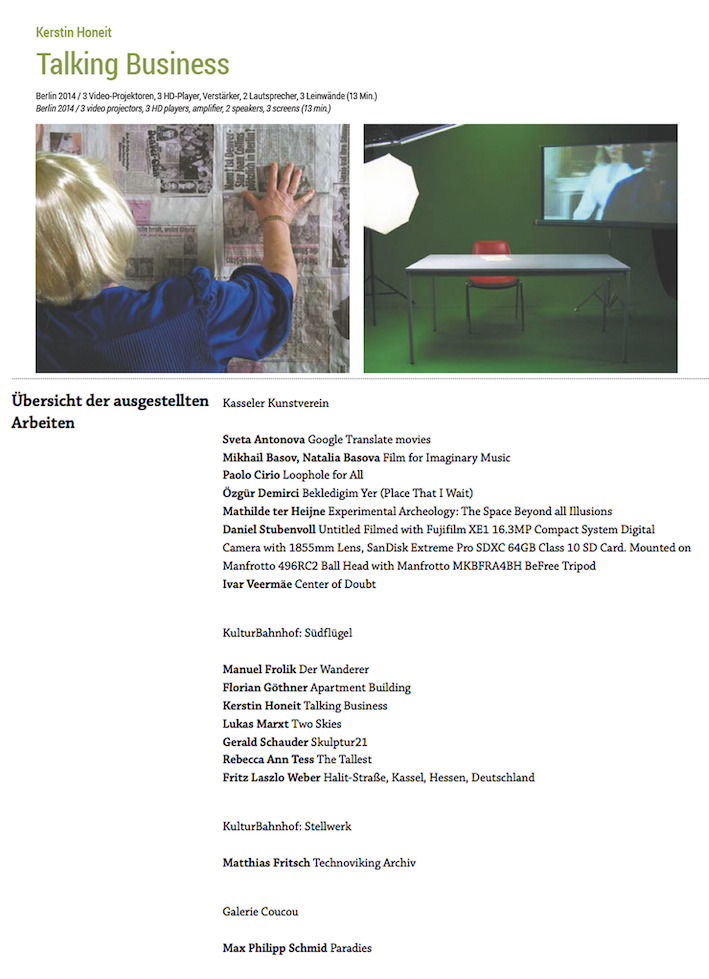 The Monitoring-exhibition is shown in the following places: Kasseler Kunstverein, KulturBahnhof (Südflügel & Stellwerk) and Galerie Coucou.
opening hours:
Kasseler Kunstverein (Fridericianum, Friedrichsplatz 18)
Wed / Nov 11 / 7–1 p.m.
Thur–Sat / Nov 12–14 / 11 a.m.–10 p.m.
Sun / Nov 15 / 11 a.m.–7 p.m.
KulturBahnhof Kassel (Rainer Dierichs Platz1)
und Galerie Coucou (Elfbuchenstraße 20)

Wed / Nov 11 / 7–11 p.m.
Thur – Sat / Nov 12–14 / 5–10 p.m.
Sun / Nov 15 / 5–8 p.m.
The exhibition is free of charge.
SCREENING / ARTIST TALK
at Image Movement, MOVES# 102
Kerstin Honeit Inside/Out – Viewing Berlin
/// 3 November 2015, Berlin ///
Image Movement is delighted to host an evening with Kerstin Honeit.
As a native Berliner the city forms a crucial backdrop for the staging of Kerstin Honeit's practice in video work, performances and installations. Here she investigates intersections between representation and reception, real and fictional space and the body and its construction.
For the screening at Image Movement, Honeit will present four of her recent video pieces where the city of Berlin builds the framework for site specific interventions such as the animalistic activism of 'Pigs in Progress' (Oberhausen German competition, 2014) or the reunion of the TV-heroines Alexis and Krystle Carrington from the 80's series and camp classic Dynasty in Berlin-Zehlendorf ('Talking Business' Monitoring, Kasseler Dokumentarfilm und Videofest, 2015).
Admission is free.
3 November, 8:30 pm
Oranienburger Str. 18
10178 Berlin
TALKING BUSINESS at Arsenal – Institut für Film und Videokunst
/// 18. October 2015, Berlin ///
For the 8th time, we are presenting film projects and grant-holders who have received funding from the Female Artists' Program of the Berlin Senate Chancellery for Cultural Affairs over the last two years. Festival success stories stand alongside projects still at a conceptual stage, for this event is a screening and a public discussion of work in one.
Titles such as MOVEMENT, FICTIONS AND FUTURES #1, or TALKING BUSINESS sketch out the range of questions the projects pose not just on reality but also on the medium of film. Other titles such as WITHOUT BORDER or DEIN HERZ (AT) link the abstract to concrete biographies and everyday situations.
We open the series with RAINBOW'S GRAVITY by Kerstin Schroedinger and Mareike Bernien, an investigation of Agfa Color New Film which was manufactured in National Socialist Germany. Taking the film's three different layers of emulsion as its discursive thread, the work takes an in-depth look at the escapist landscape of color of the period and interrogates the material pre-requisites, ideological incorporations, and continuities of the Agfa color palette. The images projected in the former factory space do not just construct themselves, but also eyes for whom historicization has become a habit, attempting to make visible what color does not show.
Additional projects will be presented by Shira Wachsmann, Anu Pennanen, Yalda Afsah/Ginan Seidl, Irene Schüller, Anja Dornieden, Juliane Ebner, Yvon Chabrowski, Minze Tummescheit, Kerstin Honeit, Kolja Barbara Kunt, Petra Lottje, Angelika Levi, Isabell Spengler, Catharina Göldner, Vika Kirchenbauer. A program brochure provides extra information on these and other funded works. (stss) (15.–18.10.)
Talking Business
18 of October 2015, 5pm
Arsenal – Institut für Film und Videokunst, Kino 2
Potsdamer Straße 2
10785 Berlin
/// October 6 2015, Concordia University, Montreal ///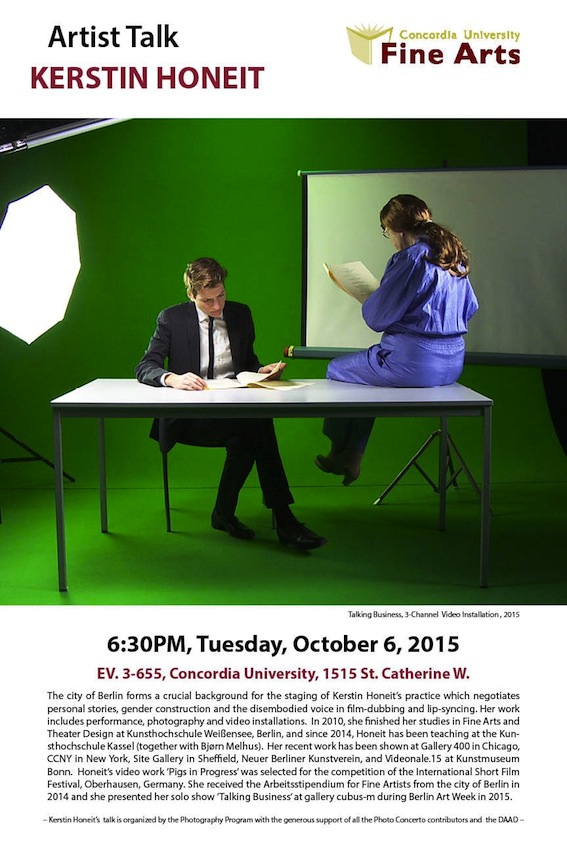 Berlin-based artist Kerstin Honeit will be giving a talk on Tuesday, October 6th at Concordia University in EV 3.655 at 6:30pm. The lecture is presented by the Photography Program with additional support from the DAAD German Academic Exchange Service and is free and open to the public.
Talking Business
/// August 28–October 10 2015, cubus-m, Berlin ///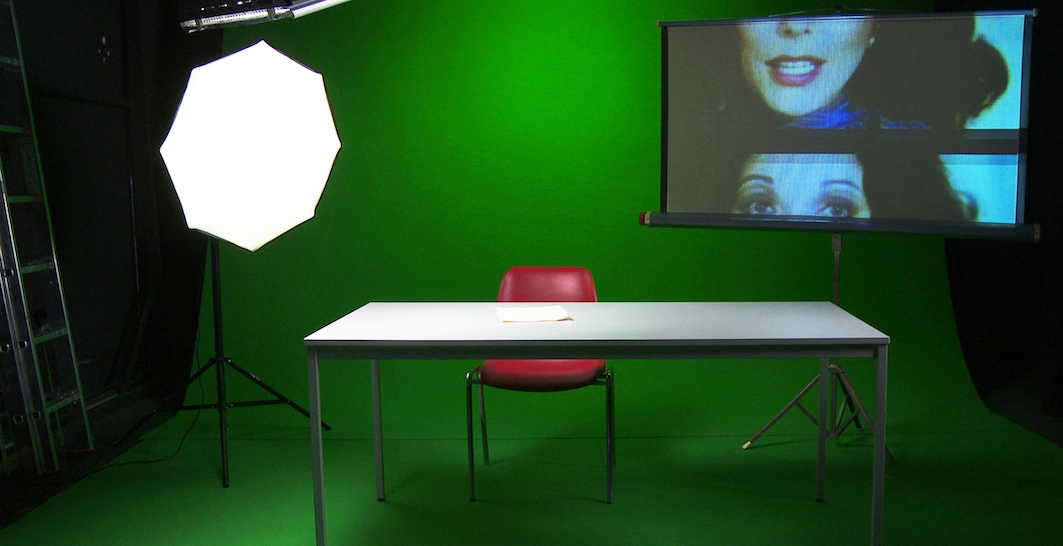 In the work Talking Business, Kerstin Honeit continues her research on the phenomenon of the disembodied voice and applies herself especially to the reproduction and doubling that underlies the process of dubbing. Working in collaboration with the voice actors Ursula Heyer and Gisela Fritsch, a film script was developed based on the substantial amount of material they collected together.
It was these two voice artists who 30 years ago gave the fictional characters Krystle Carrington and Alexis Carrington Colby from the TV soap opera Dynasty their German voices. While the TV actresses achieved a great deal of media attention and fame, the two voice artists stayed relatively unknown. Their voices constructed a new hybrid identity of series characters who started to take on their own life with the growing popularity of the soap opera, mixing the Hollywood narrative with the lives of the voice actors themselves.
Honeit dissolves the familiar unity of sound and picture, voice and body in her 3-channel video work. The two voice actors appear in front of the camera as themselves while at the same time challenging the film characters by personifying a double role. Through asynchronous elements and fluid transitions between the roles of film character, actor and voice actor, Honeit orchestrates a multiple-voiced work that continues to question and redefine the issue of 'who is talking'.
Artist talk with Marc Siegel: September 30, 2015, 6.30 p.m.
Opening hours:
Wed–Fr 2–7 p.m.,
Sat 11 a.m.–7 p.m.
and by appointment

cubus-m
Pohlstraße 75
10785 Berlin
PUBLICATION
History is a Warm Gun
/// n.b.k. Band 7, Hrsg. Marius Babias & Britta Schmitz ///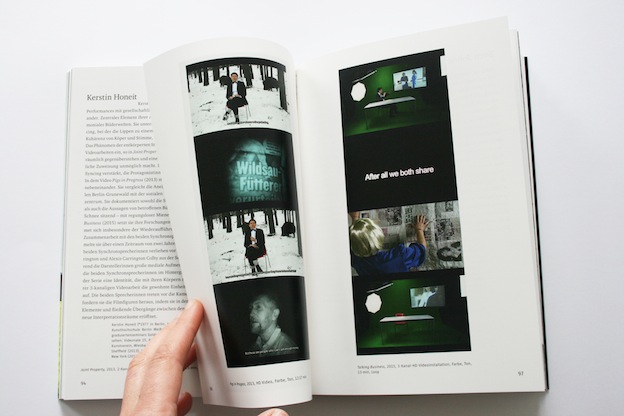 "Taking Berlin as a site for contemporary art trends as a starting point, the publication reflects socially relevant subjects and perspectives of today's generation of artists. By the example of 16 selected international artists living in Berlin, different working methods and artistic approaches dealing with their personal history as well as the German history are being revealed."
n.b.k. BERLIN BAND 7: HISTORY IS A WARM GUN – BERLIN, NEUER BERLINER KUNSTVEREIN
ISBN: 978-3-86335-738-2
History is a Warm Gun
/// February 28–April 26, 2015, n.b.k. ///
Artists: Claudia Angelmaier, Dirk Bell, Bram Braam, Aleksandra Domanovic, Shahram Entekhabi, Christian Falsnaes, Dani Gal, Andreas Greiner, Assaf Gruber, Kerstin Honeit, Sven Johne, Eva Könnemann, Rivka Rinn, Sonya Schönberger, Pola Sieverding, Natalia Stachon
Curator: Britta Schmitz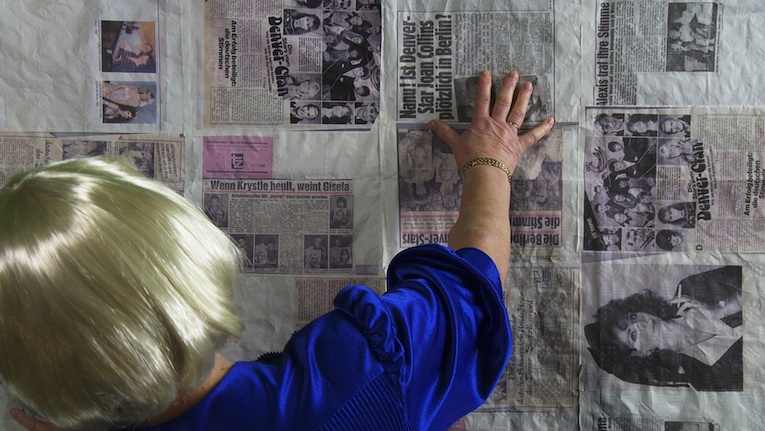 With the exhibition History is a Warm Gun, Neuer Berliner Kunstverein in 2015 resumes the series of exhibitions by fellows of the Fine Arts Scholarship of the Berlin Senate. The art deals with life as such – directly and over again, reflecting experiences and responding on its own level of reflection. And yet, life in its diversity and unpredictability ensures that art always presents new questions and issues – History is a Warm Gun is an exhibition, expressing the experience of reality by artists, whose center of life and work is in Berlin, and who in 2014 were granted the Fine Arts Scholarship of the Berlin Senate. The exhibition maps out various perspectives on history by today's generation of artists. In a playful manner, the title refers to the Beatles song Happiness is a Warm Gun and emphasizes the empowerment of the participating artists to develop, also contrary to established historiography, own historical narratives. History is a Warm Gun captures a current trend in art production and accompanies the selection of the artists in a seismographic way. The exhibition outlines a wide range of questions that are picked up by a younger generation of artists and that are dedicated to the mutual contemplation of past and present with recourse to historical and personal events. In doing so, it is discussed how and which history and stories are relevant and how they are communicated in paintings, sculptures, installations and films. How do artists, who live in Berlin, deal with their country of birth or the country in which they live, and how does an interest in one's own biography express itself? Hitherto neglected historical events are interrelated with current and personal events and are repeatedly put in the focus of production. The artists took advantage of the scholarship in order to reflect their artistic practice and working methods, to conduct extensive research and to explore the influences of previous generations on their own artist generation. With references to history, ethnology or biology they discuss in videos, photographs, paintings, sculptures, installations, and performances diverse social, cultural and political issues.
Publication
The exhibition is accompanied by a publication as part of the n.b.k. book series "Berlin", published by Verlag der Buchhandlung Walther König, Cologne, with a foreword by Tim Renner and Marius Babias, as well as texts by Jan Brandt, Britta Schmitz and Silke Wittig.
Public Program
Thursday, March 5, 2015, 7 pm
Back to the Future – Civilizational Histories in Visual Arts
Panel discussion with Susanne von Falkenhausen (Professor of Modern Art History, Humboldt Universität zu Berlin), Judith Welter (collection curator Migros Museum für Gegenwartskunst, Zurich) and Hilke Thode-Arora (curator, Five Continents Museum, Munich), moderated by Britta Schmitz (Chief Curator of Hamburger Bahnhof – Museum für Gegenwart, Berlin)
Thursday, March 19, 2015, 7 pm
Performance Reloaded
Panel discussion with Christian Falsnaes (artist, Berlin), Kerstin Honeit (artist, Berlin), and Sonya Schönberger (artist, Berlin), moderated by Kathleen Rahn (Director Kunstverein Hannover)
Sunday, April 26, 2015, 8 pm
Gut Plays Gut – Her History
DJ gig by Gudrun Gut
Neuer Berliner Kunstverein
Chausseestrasse 128/129
10115 Berlin
EXHIBITION
VIDEONALE. 15
/// 27. February–19. April 2015, Kunstmuseum Bonn. ///
Ayla Pierrot Arendt, Udita Bhargava, Pauline Boudry & Renate Lorenz, Jenny Brady, Karolina Bregula, Wim Catrysse, Jos Diegel, Wojtek Doroszuk, Mahdi Fleifel, Christoph Faulhaber, Fabien Giraud & Raphaël Siboni, Shaun Gladwell, Philipp Gufler, Amina Handke, Constantin Hartenstein, Kerstin Honeit, Vika Kirchenbauer, Thomas Kneubühler, Ihra Lill, Lieux fictifs (diverse artists), Elin Magnusson, Rachel Mayeri, Marianna Milhorat, NEOZOON,, Shelly Nadashi, Erkka Nissininen, Francois Nouguies, Alan Phelan, Christina Picchi, Florian Pugnaire & David Raffini, Mateusz Sadowski, The Otolith Group, Koen Theys, Gerhard Treml & Leo Calice, Anna Zett, Mikhail Zheleznikov, Tobias Yves Zintel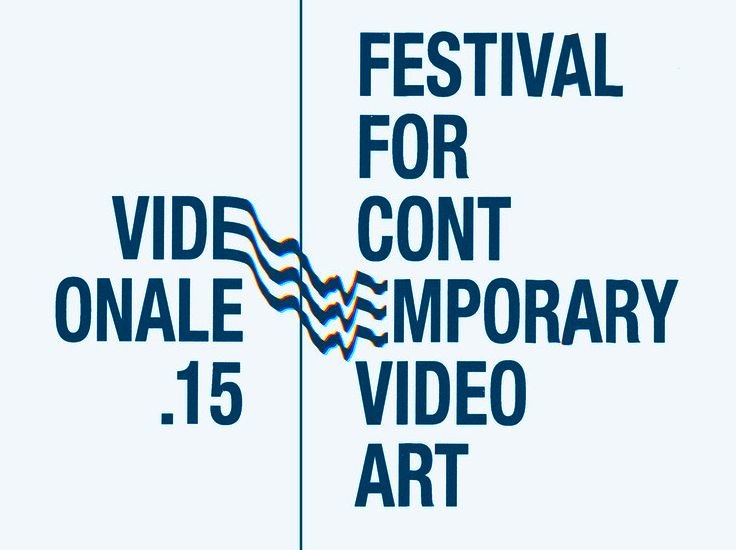 For the first time, with VIDEONALE.15, the Open Call for the Videonale competition featured a theme. With "The Call of the Wild", Videonale asked what potential the concept of "the Wild" holds for the description and examination of the alien in the sense of unknown or till now unfamiliar fields of activity, image production or conceptual thinking. From the more than 1,200 submissions from 76 countries, 38 positions from 19 countries have been selected.
"What we are looking for with "Call of the Wild" is the exploration of the unstable territories in which the way to deal with new social, political, cultural and aesthetic constellations is being discussed and for which there is currently no adequate vocabulary at our disposal. In the VIDEONALE.15 exhibition, 38 international artistic positions have each found their own way to pose questions on this theme and give us food for thought: They cover a wide range, from the observation of the shifts and realignments within society, to the question about how the flaring up of worldwide trouble spots can affect personal circumstances on a small , and the political situation on a large scale; the question about how to handle the increasingly obvious blanket monitoring of our data- and communication channels and its effects is examined, as are the new aesthetic and artistic forms of using the surface of a digitally generated world", says Tasja Langenbach, artistic director of VIDEONALE.15.
Videonale e.V. im Kunstmuseum Bonn
Friedrich-Ebert-Allee 2
53113 Bonn
Opening Hours of Kunstmuseum Bonn:
Tue to Sun 11am–6pm, Wed 11am–9pm

Special opening hours VIDEONALE.15 exhibition
Friday, 27th Feb 2013 11 am–9 pm
Saturday, 28th Feb 2013 11 am–9 pm
Saturday, 18th April 2013 11 am–9 pm
The Hooks in Zurich
/// 04.–05. February 2015, Gessnerallee ///
Damian Rebgetz, Paul Hankinson, Emma Cattell, Anna-Luise Recke, Neela de Fonseka, Kerstin Honeit, Johanna Höhmann, Marta Hewelt, Torsten Schwarzbach, Tobias Klette, Rahel Spöhrer, Timo Schmidt, Christina Ostrowsk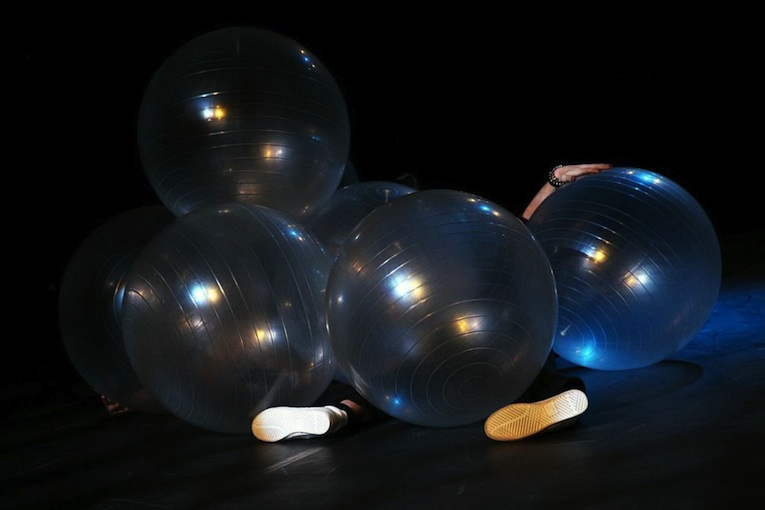 The Hooks explores the phenomenon and the mechanics of Hooklines*. While pop songs are ephemeral and while the preferences of the listeners change, the hookline, once it has settled into the circuits of memory, continues to exist subconsciously. As if it took its listeners captive, the melody writes itself into one's memory for ever.
In his performances, Damian Rebgetz researches personal and cultural memories that arose from his work with hooklines and pop songs of the 1980s. Together with the composer Paul Hankinson, the dancer Anna-Luise Recke and the artist Emma Cattell he unfolds a complex fabric in which various black boxes are opened and put into connection with each other. Remixed pop songs of the 1980s become incantations of a "post-disco-topical" melancholy. "The Hooks" is a visual song cycle for vocals and piano and asks the question: To be hooked or not to be hooked.
The Hooks
04.–05.02.02.2015, 8pm

Gessnerallee Zurich
Gessnerallee 8
Ch–8001 Zurich
SCREENING
Pigs in Progress at Grande Filiale
/// 25.–29. December 2014, Speyer ///
Die Grande Filiale ist ein internationales Film- und Musikfestival, das im Jahr 1999 von der Gruppe Kommando Hasenpfuhlstrasse in Speyer am Rhein gegründet wurde.
Es ist ein unabhängiges und nicht kommerzielles Festival und versteht sich als Schauplatz neuer Perspektiven und experimenteller Erzählformen, welche den Film als eigenständige Kunstform betrachtet und als solche behandelt.
Pigs in Progress – Sa 27.12.2014 5pm
(Kurzfilmprogramm II)

Grande Filiale Filmfestival
Ludwigstraße 13
67376 Speyer
STAGE DESIGN
The Hooks at HAU Berlin /// 11.–13. December 2014, HAU3 ///
Damian Rebgetz, Paul Hankinson, Emma Cattell, Anna-Luise Recke, Neela de Fonseka, Kerstin Honeit, Johanna Höhmann, Marta Hewelt, Torsten Schwarzbach, Tobias Klette, Rahel Spöhrer, Timo Schmidt, Christina Ostrowsk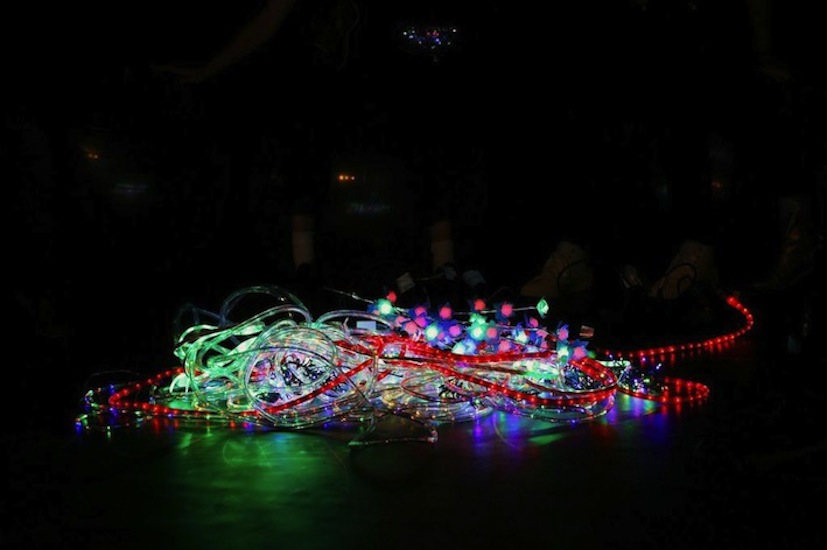 Who doesn't know it, that song from last summer, that sound that brings comfort to the lonely moments, the constantly recurring soundtrack of one's own memories or a melody that seems to embrace the whole of life? That's exactly what constitutes a successful hookline in a song. The Hooks, the second HAU co-production with Damian Rebgetz, examines the phenomenon of hooklines and how they work. In this performance he investigates the personal and cultural memories that arise from the hooklines and pop songs. Working with the composer Paul Hankinson, the dancer Anna-Luise Recke and the artist Emma Cattell, he unfolds a complex web in which different Black Boxes are opened and linked up to. Newly adapted pop songs from the 1980s become evocations of a "post-discotopian" melancholy. The Hooks is a visual song cycle for voice and piano that asks the question: To be hooked or not to be hooked?
HAU3
Tempelhofer Ufer 10
10963 Berlin

11.,12.12.2015 – 8pm
13.12.12.2015 – 5pm
EXHIBITION
inheritance / act_out at gls Projekt
/// 18 October–1th of November /// Vernissage: 17.10.2014 ///
Elly Clarke / Kerstin Honeit / Lisa Jugert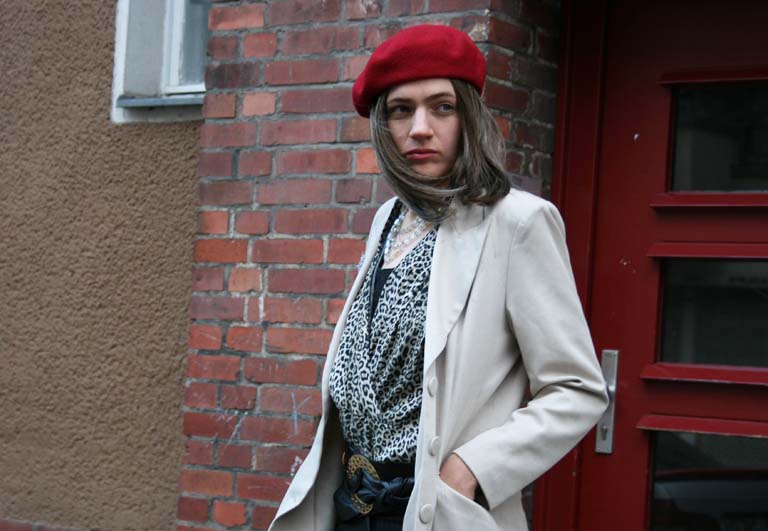 What is it to inherit? What is inheritance? Who inherits?
Who leaves it for you?
Why you?
What if you don't want to inherit? What if you don't have room?
What do you do with all that stuff?
How do you carry it with you, from place to place, year to year?
What stories belong to it?
What if you don't want to be reminded?
How do you hold on to it all?
How do you display it?
How do you describe it? Who to?
Are you describing it, or is it describing you?
Where is the boundary, between you and the things, the things and you? Or between her who gave or left you the thing in the first place, and the stories that are stuck to it, as well as those that fell away. Are histories dependent upon objects, or objects upon histories? What is the boundary between me and you, this thing and that part of your story? Is it my story, your story, their story or our story? What if we refuse it? Can we say no? Where are we without it? What do you do with it after you're done?
What is inheritance?
What is it to inherit?
Why is there inheritance?
Why is there no inheritance?
Why are we bothering to re-write the story if it is not ours anyway?
What if we make it up?
Elly Clarke, The George Richmond Portrait Project (2008–ongoing)
Elly Clarke has been tracing portraits by her great-great-great grandfather George Richmond RA (1809–1896) to private homes across the UK (and occasionally beyond) for more than five years, photographing the portraits and the living descendants of those her ancestor portrayed in situ, and conducting audio interviews about what they know both of their ancestors and the portraits.

Kerstin Honeit, Becoming 10, (2007–10)
In the photo installation 'Becoming 10' Kerstin Honeit performs her 'un-met' 9 half siblings from the former East and West of Berlin. Based only on the information of age, name, address Honeit stages herself in their real environments and apartment blocks in imagined poses, using the gesture of drag.
Lisa Jugert, History Vision Machines, (2010)
History Vision Machines turns the machine that records everything back on itself. Various camera models are presented both as subject and recording device. Matched with a mirror and a location fitting to each model, the series encourages a consideration of the manner in which our personal and political, individual and collective histories have been presented, and the influence of technology upon this.
Artist talk: 30.10. 19h

Opening hours: Wednesday–Saturday 12h–18h
GSL Projekt
Novalisstraße 7 / 10115 Berlin
U6 Oranienburger Tor / S Bahn Nordbahnhof
/// Concordia University, Montreal (CA) Oct. 8 2014, 2pm ///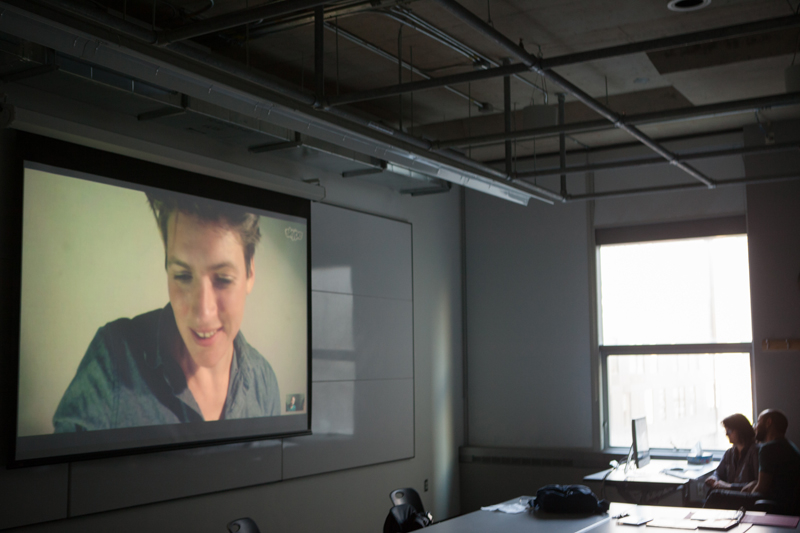 Artist talk and Q&A as part of the course: Photographic Vision: Theory & Practice II in the photography department
(Prof. Tema Stauffer), Concordia University, Faculty of Fine Arts, Montreal.
Engineering and Visual Arts Complex
Faculty of Fine Arts
1515 St. Catherine St W, Montreal
Québec, Canada
/// Positions Berlin Video Lounge 16–21th September ///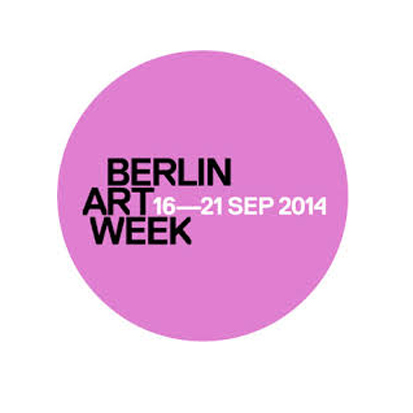 supporting program VIDEOPOSITIONS
POSITIONS BERLIN daily presents:
a curated selection of contemporary video art at the video lounge.
opening reception
Thursday, 18 September 2014, 6–10 p.m.
public days
Friday, 19 September 2014, 1–8 p.m.
Saturday, 20 September 2014, 1–8 p.m
Sunday, 21 September 2014, 11 a.m.–6 p.m.

Kaufhaus Jandorf
Brunnenstraße 19–21
10119 Berlin
/// 12 September–14 December 2014 ///
Nassauischer Kunstverein Wiesbaden
Silva Agostini / Marc Bijl / Selket Chlupka / Thomas Eller /Larissa Fassler / Amir Fattal / Kerstin Honeit / Eva Kietzmann & Petra Kübert / Timo Klöppel / Stephanie Kloss / Kunst-Koffer / Alicja Kwade / Via Lewandowsky /Gordon Matta-Clark / Dominikus Müller & Kito Nedo /Manfred Peckl / Michalis Pichler / Tim Plamper / Verena Resch / Adam Saks / Salah Saouli / Andreas Schlaegel /Nina von Seckendorff / Daniel Segerberg / Marcus Sendlinger / Philip Topolovac / Fabrizia Vanetta / Adriana Vignoli /Annette Weisser / Sinta Werner / Martin Zawadzki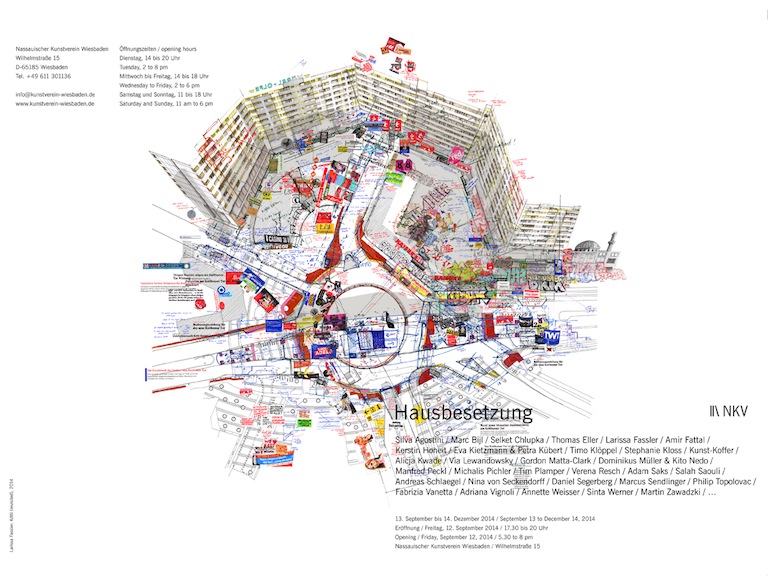 A group exhibition and program on the occasion of the 50th anniversary of the sister city partnership of
Wiesbaden and Berlin-Kreuzberg.
2014 is the 50th anniversary of the sister city partnership of Wiesbaden with Berlin-Kreuzberg (since 2001 Friedrichshain-Kreuzberg). One of the first inner-German sister city pairs, the relationship can be seen as an expression of solidarity historically bound by the experience of the Berlin Airlifts, in which Wiesbaden-based US planes dropped supplies on the city.
Superficially, the two sisters could not be more different:
On the one hand we have Wiesbaden, with its Kurhaus Casino, historic downtown, and large population of millionaires; and on the other we have the infamous Kreuzberg, which since 1968, during the time of student unrest, has been a place of societal and social upheaval. Squatting, anarchy, poverty, political agitation and parallel societies are associated with Kreuzberg, as well as cultural diversity, creativity, art, urban middle class and gentrification.
From 12.9 to 14.12.2014, the Nassauischer Kunstverein (NKV) will celebrate the anniversary of these two "antipodes" with an exhibition and program: For this two-city exhibition, "squatting" and gentrification are used as conceptual starting points, and abstracted into inverted symbolic forms by Kreuzberg and Berlin artists in Wiesbaden. The 19th century mansion on the "boulevard" of Wiesbaden that serves as NKV's home will be "occupied." Though the exhibition is traditionally curated, its run time turns the gallery into a dynamic space as participating artists create a dialogue with their work (through performance, video, graphic design, architecture, historical position, popular culture, etc.). They are "squatters," manipulating the space with no influence from the Kunstverein "landlords," other than logistics and organization. The gallery then becomes a dynamic space that changes in the same chaotic fashion as a city.
The theme of the exhibition is the phenomenon of gentrification, an acute social problem of today with great visibility, especially in Kreuzberg, as evidenced by the large amount of media coverage on the subject. A look at the history of Wiesbaden, however shows that gentrification is not merely an issue of the 21st century that has taken place in the hip neighborhoods of the capital: Kaiser Wilhelm II greatly influenced the city-building of Wiesbaden, and his regular visits to the "Nice of the North" brought numerous nobles, artists and wealthy entrepreneurs into the city where they permanently settled. The multiplying number of inhabitants and the influence of Prussia brought about the construction of buildings such as Kurhaus Wiesbaden with its casino and the Hessian State Theatre on Wilhelmstrasse, whose architectures characterizes the city today.
Is Wiesbaden the 20th century prototype to the process of gentrification?
Another question worth exploring is art's role in gentrification. Artists and cultural workers wholesale low-income profession- are often paradoxically viewed as the alleged perpetrators of socio-economic restructuring, since their presence quarter can be attractive. Since 2006, for example the former Güterbahnhofs West has become an artists district. The exhibition will also aim to explore and challenge this school of thought that blames artists and dissidents for larger societal problems. While they want to offer new and critical perspective on the subject, the program of lectures and discussions take theoretical base into account.
Nassauischer Kunstverein Wiesbaden
Wilhelmstraße 15
65185 Wiesbaden
PICTURE BERLIN at tête
/// July 30, 2014, 8:30 pm ///
JULY – PUBLIC PROGRAMMING
10 / 19.00 – Inaugural Exhibition Opening, tête, Schönhauser Allee 161a
11 / 10 – 18.00 – Presentation by PB artists at tête
16 / 20.30 – Artist talk by Hester Oerlemans (NL) at tête
17 / 20.30 – Artist talk by David Edward Allen (GB) at tête
19 / 10–18.00 – PB artists present work in progress at tête
20 / 14–18.00 – Sonntag presents Samuel Dowd (GB)
Gossowstrasse 10, Bell: Schiesser
21 / 20.30 – Artist talk by Joachim Schmid (DE) at tête
22 / 20.30 – Artist talk by Hannah Dougherty (US) at tête
23 / 20.30 – Artist talk by Delphine Bedel (NL) at tête
28 / 20.30 – Artist talk by April Gertler (US) at tête
30 / 20.30 – Artist talk by Kerstin Honeit (DE) at tête
31 / 20.30 – Curatorial presentation by Manuel Wischnewski (DE)
from Neue Berliner Raüme at tête
PICTURE BERLIN, now in its 5th year, is a 6 week summer program designed for emerging artists working in contemporary art and photography. A rigorous studio practice forms the heart of the program and working in community with other artist is its soul. The dynamic programming offers over 15 lectures by Berlin based artists, one-on-one discussions with over 10 international artists and curators, multiple exhibitions, group meals and work reviews, studio visits, a curatorial marathon, and 6 choreographed artist walks. The city shapes the program and is the springboard naturally flowing into the greater European art scene. As we mark the 5th year, the 2014 summer session offers the opportunity to participate in September's PICTURE BERLIN Festival.
tête
Schönhauser Allee 161A
D–10435 Berlin
Radio play and live broadcast /// Berlin HKW
/// May 30, 2014, 9–11 pm ///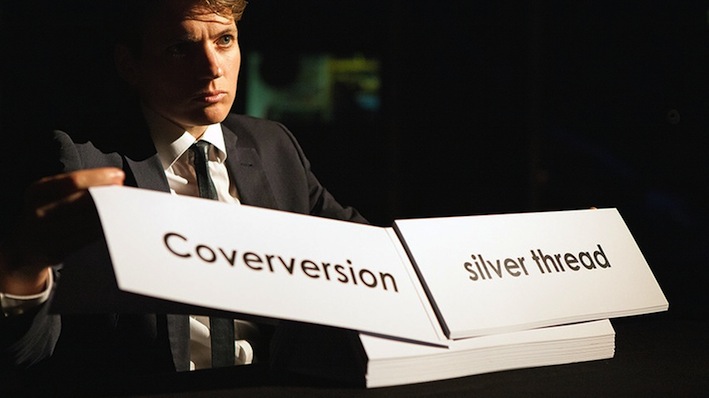 Eran Schaerf with Pauline Boudry, Elfriede Jelinek, Leonhard Koppelmann, Stephanie Metzger, Eva Meyer, Uriel Orlow, Andrea Thal and Tim Zulauf
In 1938, simulated news reports in Orson Welles' radio play The War of the Worlds convinced many listeners that Martians were invading the earth. The episode sparked public outrage and brought into relief widely held assumptions about the truth claims of certain media: radio plays are considered staged fiction, while news reports traffic in documentation.
But how stable are these categories? What can a radio play document when it combines journalistic, essayistic, and biographical forms of narration? Which form of narration documents an existing society and which brings about a new one? Artist Eran Schaerf's 1001 Reality. Sequels for an unfinished novel investigates such questions through a radio broadcast produced on location at the Haus der Kulturen der Welt and transmitted live on Bayern2.
It draws its source material from the philosopher Jacqueline Kahanoff's unfinished novel Tamra, an account of a forbidden romance between a Muslim boy and its eponymous protagonist, a young woman of Jewish origin. Born in India and holding a British passport, Tamra lands as a teenager in colonial Cairo of the 1930s, where she experiences conflict with the members and ideology of her European­educated, privileged class. Schaerf, finding echoes of the novel's themes in Kahanoff's nonfiction writing – particularly her philosophy of Levantinism – uses the format of the radio play to continue the narrative of Tamra, querying the relevance of the Levantine model for postcolonial Europe.

Additional performers: Kerstin Honeit, Lara Körte, Karolin Meunier, Samuel Streiff
1001 Reality. Sequels for an unfinished novel was produced by BR Hörspiel and Medienkunst/ Berlin Documentary Forum 3
Haus der Kulturen der Welt
John-Foster-Dulles-Allee 10
10557 Berlin
Oberhausen, Germany /// May 4, 2014, 12:30 pm ///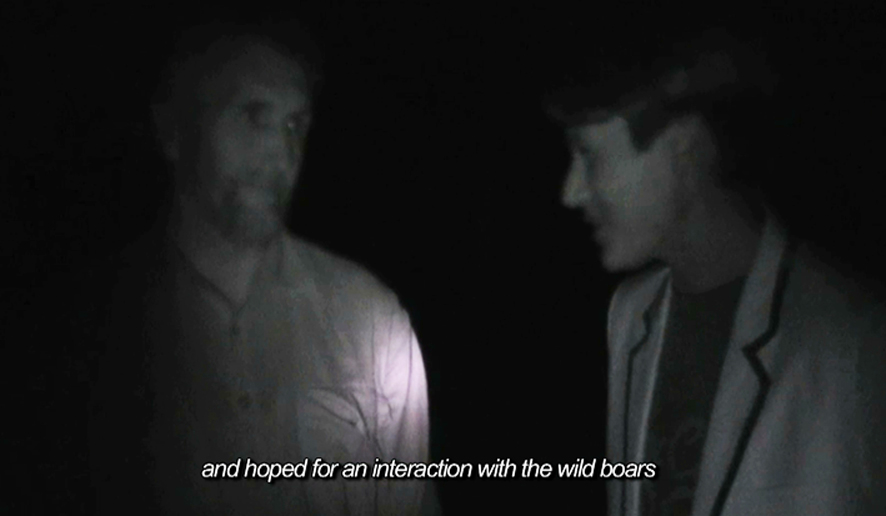 Lichtburg
Elsässer Straße 26
46045 Oberhausen
Germany
Cologne /// April 12, 2014, 9:15pm ///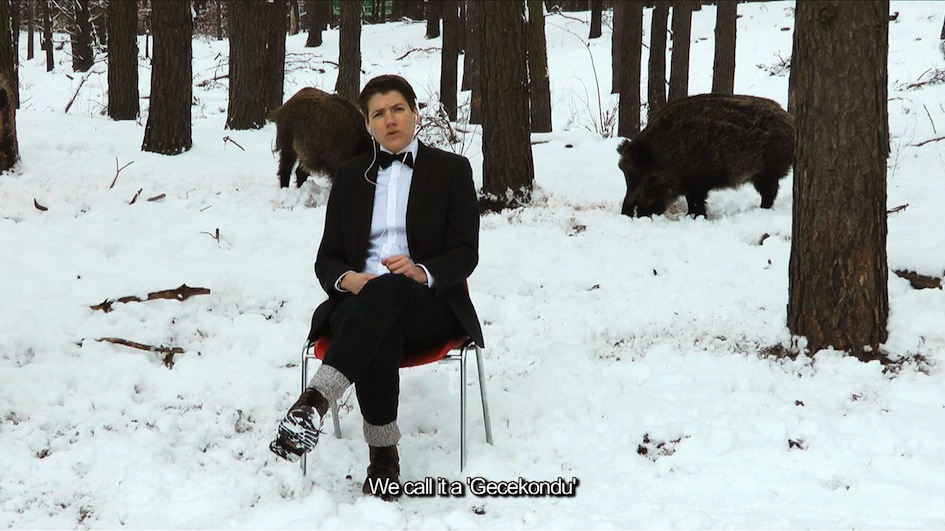 Pigs in Progress links two opposing phenomena within urban development: the current gentrification process in Berlin, where long-term tenants are displaced from the city centre to maximise real-estate profits; and the experience that house owners in the wealthier suburbs face with wild boars moving into their gardens. Swinish behaviour all- round!
Panorama / All Film-Nighter
Odeon
Severinstr. 81
50678 Cologne
Germany
Zurich /// April 9, 2014, 6 pm ///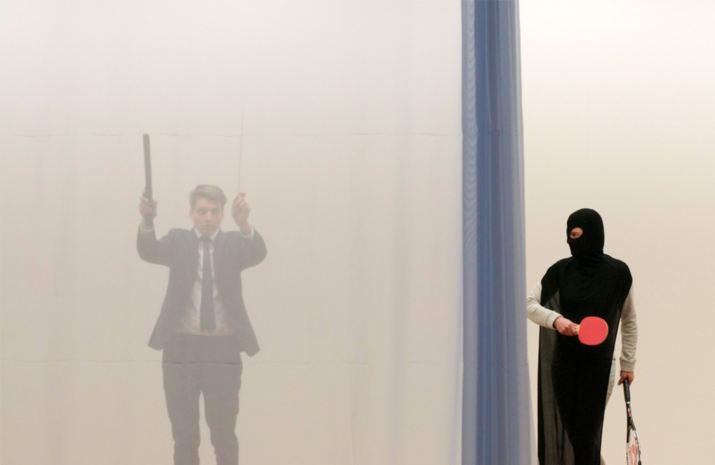 On 09. April 2014 Eran Schaerf's exhibition FM-Scenario: Armchair – Attention – Life Signal will open at Les Complices* in Zürich. This intermedial project uses the Internet as a place of production in order to generate content for further media, such as radio broadcast, exhibition and publication.
"The exhibition 'Concerning the Plurality of Time' opened to the public in the Israeli Museum of Period Rooms last weekend. The exhibition includes more than 200 armchairs and stools offered to the museum after an armchair in the museum's French Salon was destroyed. Among other exhibits on display are a stool stolen anonymously from Security Services headquarters, as well as designs for armchairs to be produced. Baron Rothschild's declaration that the destroyed armchair is replaceable triggered a deluge of donations. The museum's readiness to consider an armchair from any period as a replacement for the missing piece drew criticism from the Academy of History." (Excerpt from montage by Bastian_996)
An audio montage compiled in the FM-Scenario online studio at www.fm-scenario.net serves Eran Schaerf as a script for the exhibition at Les Complices*. The exhibition consists of a conference setting that is used for the production of the exhibition. In this setting, four performers repeatedly execute three actions. The aim of these actions is to bring, by chance and in different rhythms, a sign – name, term, number, object – into play. If two identical signs are brought into play synchonously, then the game begins anew. The addressee of the performance is a camera. The performers take turns assuming the role of the cameraperson. A second camera accompanies the performance, yet acts independent of the script.
In FM-Scenario: Armchair – Attention – Life Signal variations of possible live-image-sound combinations can be experienced. A procedure that exemplifies Eran Schaerf's praxis within FM-Scenario. The project shows the components of a mass-medial production of reality in which the combinatorics of texts and images constantly allows the occurrence of new narratives.
The exhibition is the fifth of six exhibitions of the project FM-Scenario – The Listener's Voice by Eran Schaerf.
On the 11th of April 2014 at 9:03 p.m., several compilations by users of the online studio will be broadcast by Bayerischer Rundfunk on Bayern2 as part of the program hör!spiel!art.mix. Following the broadcast, the program can be downloaded as a podcast at www.hoerspielpool.de, where podcasts of all preceding broadcasts of previous compilations as well as background broadcasts can be found.
Exhibition curator:
Andrea Thal
Performance and image production: in cooperation with
Kerstin Honeit, Karolin Meunier, Stefan Pente, Andrea Thal, and William Wheeler
Les Complices*
Anwandstrasse 9
8004 Zurich
Switzerland
Berlin /// March 16, 2014, 2–6 pm ///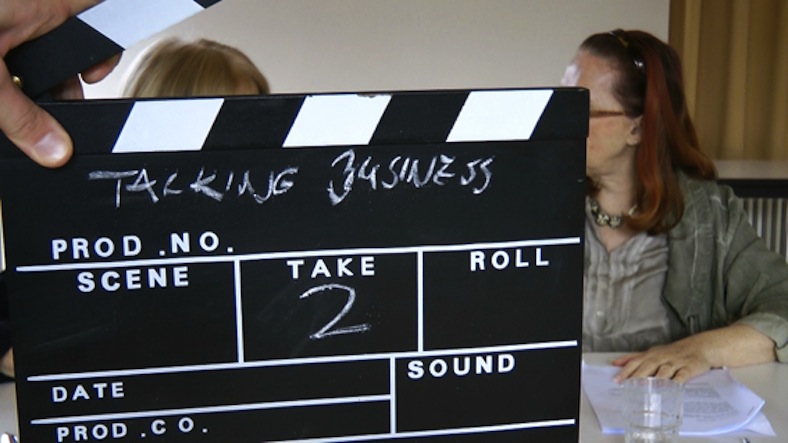 Kerstin Honeit will be presenting MOTIVES? THAT'S AN UGLY IMPLICATION an installation relating to her work in progress TALKING BUSINESS. Sonntag was started in 2012 by April Gertler and Adrian Schiesser. It is a social sculpture that takes place the third Sunday afternoon of every month in Berlin. For each Sonntag an artist is invited to show their work in Adrian's apartment. The artist's favorite cake is made by April and Adrian and is served with coffee and tea.
Sonntag (Bell: Schiesser)
Gossowstrasse 10
10777 Berlin
Screening & Book Launch in Sheffield Site Gallery ///
17 December 2013, 6–8pm ///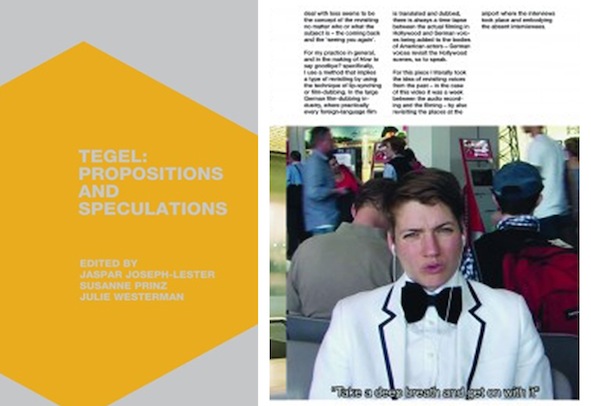 Over a period of eighteen months, a selected group of international artists and writers focused their attention on Tegel airport, they observed how it is used, they engaged in new activities and imagined how the building might function in the future. This book and DVD is the outcome of what might be described as an open-ended enquiry and, as such, embodies new perspectives and approaches to the problem of urban renewal, regeneration, social organisation, mobility and the legacy of modernist architecture. This approach to site is central to imagining how art practice can slow down, re-orientate and redefine the successive cycle of masterplans and regeneration schemes so that we can begin to consider what is at stake in the spaces that we occupy.
Including artists and writers:
Peter Adey, Sean Ashton, Michelle Atherton, Diane Bauer, Amanda Beech, Federica Bueti, Maja Ciric, Jamie Crewe, Nick Crowe & Ian Rawlinson, Bryan Eccleshall, Elke Falat, Stella Flatten, Hondartza Fraga, Rachel Garfield, Margarita Gluzberg, Julian Gough, Robert Gschwantner, Giorgio Cappozzo, Jane Harris, Gill Hobson, Janet Hodgson, Dale Holmes, Kerstin Honeit, Ben Hope, Stephan Hüsch, Jaspar Joseph-Lester, Karl Heinz Jeron, Renata Kaminska, Natasja Keller, Sharon Kivland, Jon Klein, Liane Lang, Jeff Luckey, TC McCormack, Ashley Metz, Karina Nimmerfall, Irene Pätzug, Amy Patton, Susanne Prinz, Boris Riedel, Miguel Santos, Gary Simmonds, Robert Partridge, Águeda Simó, Joachim Stein, Ricarda Vidal, Julie Westerman.
The publication includes a DVD with a selection of 27 short films.
Site Gallery
1 Brown Street
Sheffield, S1 2BS
SCREENING PIGS IN PROGRESS at DOKFEST
/// Kassel /// November 17, 2013, 2:00pm ///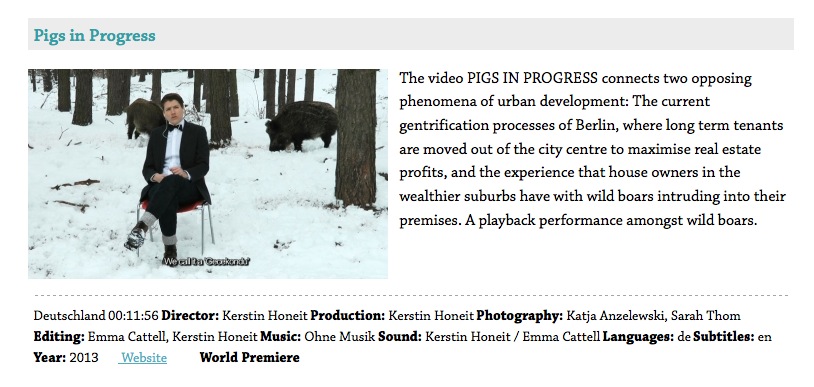 Sunday, November 17th 2013 AT 14:00 h

Großes BALi
Rainer-Dierichs-Platz 1
34117 Kassel
Germany
Zurich /// November 13, 2013, 7:00pm ///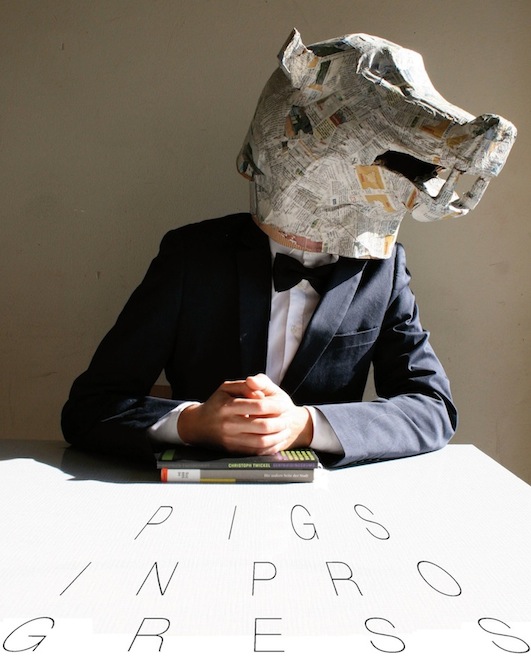 Pigs in Progress: Kerstin Honeit
mit einem Gastbeitrag / Live-Zuschaltung der Mieter_innen-Initiative Kotti & Co
Suppe & Bar: 19 Uhr
Veranstaltung: 20 Uhr
Vor dem Hintergrund aktueller Gentrifizierungsprozesse in Berlin inszeniert die Videoarbeit Pigs in Progress und der performative Prolog von Kerstin Honeit eine Neuordnung zwischen Körper und Stimme: So sind beispielsweise auf der Audiospur der Arbeit Statements von Berliner Mieter_innen zu hören, die gegen ihre Vertreibung aus der für die Immobilien-spekulation lukrativen Innenstadt protestieren. Diese Stimmen sind jedoch dem Körper auf der Bildebene genauso wenig zuzuordnen wie die Erfahrungsberichte der Bewohner_innen der Suburbs, in denen Wildschweine sich Grund und Boden "zurück erobern" und in den Stadtraum vordringen.
Anders als die oft im Zusammenhang mit "race, class, und gender" homogenisierend wirkende mediale Strategie des Lip-Synchings oder Filmdubbings, legt es Kerstin Honeits Performance durch die Akzentuierung der Diskrepanzen zwischen Ton- und Bildebene darauf an, Spiel- und Handlungsräume für Fragen nach Aneignung, Zuschreibung und Eigentum zu eröffnen.
Mit dem performativem Prolog, der auch eine Live-Zuschaltung der Mieter_innen-Initiative Kotti & Co aus Berlin Kreuzberg beinhaltet und dem Screening, setzt Kerstin Honeit hier ihre Auseinandersetzung mit der medialen Verkörperung von Stimme fort und nimmt lipsynch-enderweise zwischen einer Rotte Wildschweine platz.
Les Complices
Anwandstrasse 9
CH–8004 Zürich
POSITION#1 in Zurich
Residency in Zurich (Citro Druck+Studios)
/// November 2 – 14, 2013 ///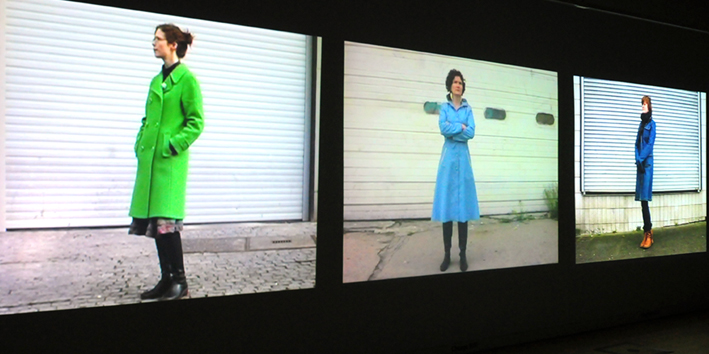 I'm very happy to announce that from November the 2th onwards I will be artist in residence at the Citro Druck+Studios, Zurich. I have been invited to produce a new portrait for the Position #1 series which has been performed in Berlin, Chicago and Sheffield.
Exhibition in Karlsruhe /// June 22–August 25, 2013 ///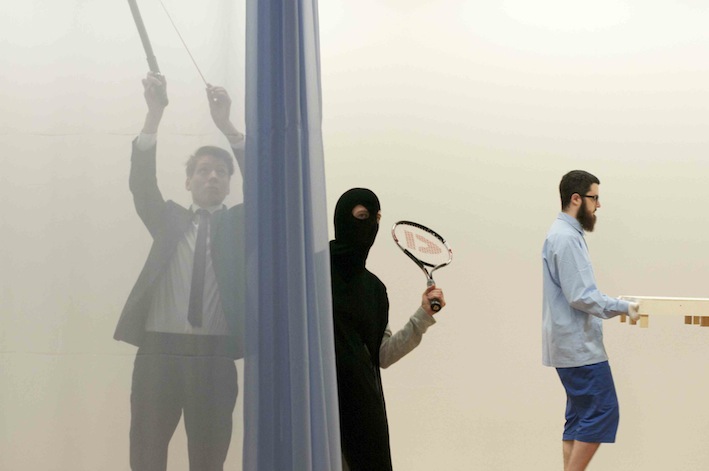 fm-scenario – The Listener's Voice is an inter-media project by Eran Schaerf, in which the Internet is used as the site of production so as to generate further media, such as radio broadcasts, exhibitions and publications.
The starting point of this inter-media project is comprised of Eran Schaerf's news radio games of the fictive radio program The Voice of the Listener (2002). Based on an archive made available by Eran Schaerf, with audio modules the curator Margit Rosen creates a montage that serves Schaerf as a script for a performance-for-the-camera. Resembling the practice of news agencies, the reports from the fm-scenario montage are shown in images and simultaneously transmitted to the ZKM exhibition space. They are then presented by performers in performances-for-the-camera within a scenic exhibition structure.
Project curator: Joerg Franzbecker
Project management: Herbert Kapfer and Joerg Franzbecker
Exhibition curator: Margit Rosen
Project coordination ZKM: Annina Zwettler
Performance and image production: in cooperation with Kerstin Honeit, Karolin Meunier, Stefan Pente, Andrea Thal and William Wheele
ZKM
Lorenzstraße 19
D–76135 Karlsruhe
Opening hours
Wed–Fri 10am–6pm
Sat–Sun 11am–6pm
Mon–Tue closed
Exhibition in Berlin at Cubus-m
/// 26th April–01th June 2013 ///
open hours during the GALLERY WEEKEND BERLIN 2013:
April 26th–April 28th 2013 – 11 a.m.–8 p.m.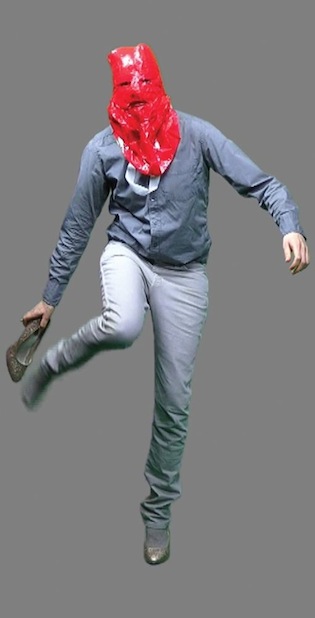 Thematically the three video works presented in the exhibition, Joint Property
(2013), Pigs in Progress (2013) and On & Off (2010), address the process of
gentrification in Berlin, along with questions of personal property and memory.
What unites the works is an examination of the medial embodiment of voice and
the implicit process of appropriation and attribution within it.
Galerie Cubus-m
Pohlstrasse 75
10785 Berlin
cubus-m.com
Opening hours
We–Fr 2–pm, Sa 11am–7pm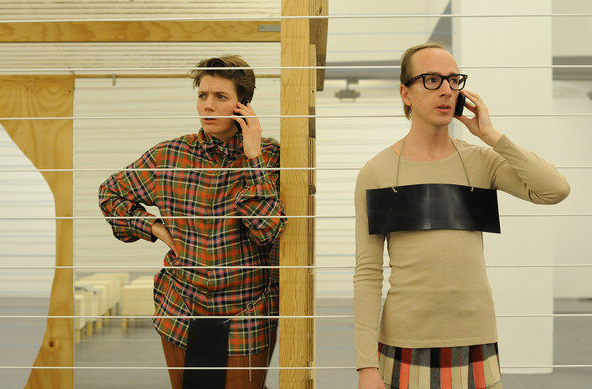 fm-scenario – The Listener's Voice is an intermedial project by Eran Schaerf which uses the internet as a place of production in order to generate content for further media – concretely: radio broadcast, exhibition, and publication. Eran Schaerf's newscast radio plays, particularly The Listener's Voice (2002), a fictive radio station that receives calls from listeners, constitute the intermedial project's starting point.
On February 15, 2013, the second of the project's five currently planned exhibitions will open at Hartware MedienKunstVerein in Dortmund. Each exhibition has its own structure and its own narrative. Drawing from the archive that is accessable at the online studio at fm-scenario.net, a curator compiles a montage which serves Schaerf as a script for a performance for the camera. This performance takes place in the exhibition space. Analogous to production in news agencies, the exhibition space is coded as a place of image production.
HMKV
Hoher Wall 15
D–44137 Dortmund
Opening hours
Tue–Wed 11am–6pm
Thu–Fri 11am–8pm
Sat–Sun 11am–6pm
Mon closed
FRAME_
Exhibition in Birmingham /// 17th Nov 2012–17th Feb 2013 ///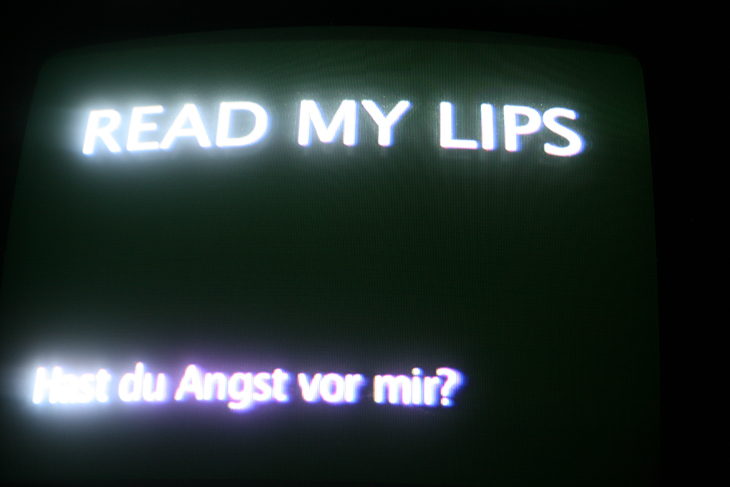 with contributions by:
Ron Athey | Dan Auluk | Alex Billingham | Jon Campbell | Elly Clarke | Jeanette Dean | Sue Dodd | Kim Donaldson | Freya Douglas-Morris | Tatiana Echeverri Fernandez | Carly Fischer | Linda Franke | Jo Gane | Caitlin Griffiths | Alexander Heaton | Kerstin Honeit | David Helbich | Nurul Huda | Harminder Judge | Lisa Jugert | Fiona Macdonald | Karen McLean | Anna Mields | Ayo & Oni Oshodi | Enda O'Donoghue | Rebecca Pittam | plan b – Sophia New & Dan Belasco Rogers | Adele Mary Reed | Alana Richards | Antonio Roberts | Fedora Romita | Liz Rosenfeld | Christian Sievers | Vajra Spook | Miriam Steinhauser | Karen Stuke | Cathy Wade | Ed Wakefield | Kym Ward | Edye Louise Wachler | Mo White | Martha Wilson
FRAME_birmingham is an Arts Council funded, mac birmingham supported Elly Clarke / Clarke Gallery project that sees unique and very small edition artworks by local and international artists installed into a variety of businesses across the city as a means of bringing art to new audiences, new audiences to art and new contexts in which art can be shown. It is also about provoking and stimulating conversations about and around the artworks, by a variety of people in a variety of different places.
Address_
Church Street
Birmingham
B3 2NR
SCREENING: ON & OFF
Medienwerkstatt Berlin goes Kino Central
/// 5–8 / 12–13 November 2012 ///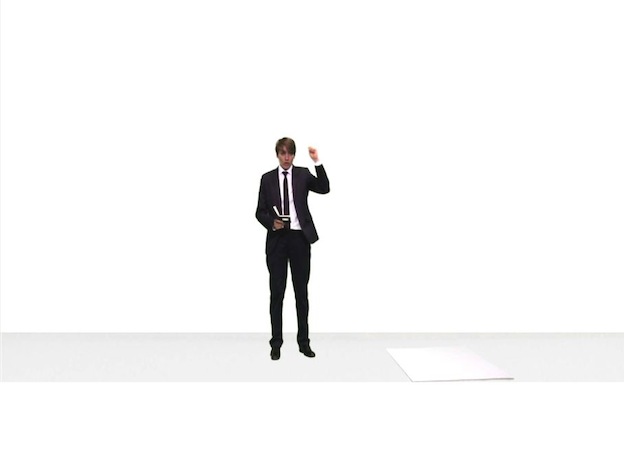 with contributions by:
Achim Kobe | Alessandro Maggioni | Andrea | Andrea Sunder Plassmann | Anja Roß | Barbara Wolters | Benjamin de Burca | Betina Kuntzsch | Bettina Rave | Christa Biedermann | Christina Hübner | Devon Elise Atkins | Dorothea Donneberg | Ewa Surowiec | Filipa Freitas | Fried Rosenstock | Gabriele Stellbaum | Gisela Weimann | Heidi Schnettler | Helga Franz | Ilka Forst | Ina Volmer | Jorn Ebner | José Noguero | Jutta Phillips-Krug | Karina Pospiech | Kerstin Honeit | Klara Hobza | Lauren Francescone | Lioba v.d.Driesch | Margret Holz | Martin Kusch & Marie Claude Poulin | Nastasja Keller | Nathalie Becher | Nicola Hochkeppel | Ninia Sverdrup | Nol Hennissen | Petra Weller | Roberto Duarte | Roland Fuhrmann | Sharon Paz | Susa Templin & Nada Sebestyen | Tobias Sjöberg | Tom Christie | Ulli Diezmann | Ulrike Bunge | Una Quigley | Wojtek Skowron
/// 5–8 / 12–13 November 2012 /// 3–4 pm
Kino Central, Haus Schwarzenberg
2. Hinterhof
Rosenthalerstr. 39
10178 Berlin-Mitte
New Performance Piece by Eran Schaerf
/// 1–30 September 2012 ///
with Karolin Meunier, Kerstin Honeit, Stefan Pente, William Wheeler
Eran Schaerf's project examines the constitution of the mass media and the space produced by it. The project offers users an Internet archive (fm-scenario.net) containing audio modules such as listener calls, features, and news, where they can compile stories. One such compilation will form the initial scenario for Schaerf's installation. Located in the interpreter booths of the main conference room, an architecture which reflects translation processes, the borders between fact and fiction, sender and receiver, user and author, become blurred questioning the production of space by means of language.
Exhibition as part of Between Walls and Windows. Architektur und Ideologie.
Haus der Kulturen der Welt
John-Foster-Dulles-Allee 10
10557 Berlin
September 1–30, 2012
Opening on September 01, 2012, 4pm.
DAS GEHORSAME WALROSS UND SEINE BETRACHTER
You are cordially invited to Turtlelab /// 14–18 July 2012 ///
with contributions by: Mirja Busch, Henrike Daum, Frederick Foert, Andy Graydon, Tina Isabella Hild, Kerstin Honeit, Michael Höpfner, Yuki Jungesblut, Judith Karcheter, Anna Martinetz, Bjørn Melhus, Reynold Reynolds, Sven Stuckenschmidt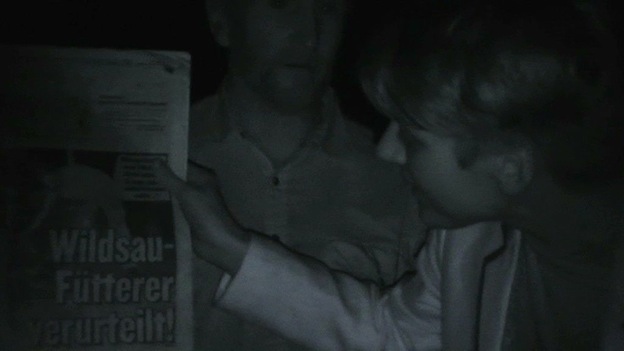 Turtle Lab Open Days occupy the interim space between studio and exhibition, private and public, casual and serious, work in development and "finished products". Their objective is to bring together a group of artists from in and around Turtle Lab and thus enter a "cross-media" symposium sporting a mixture of individual works and word-exchange possibly triggered by what is on display.
Turtlelab Berlin is a studio space at Schwedterstr. 262, currently shared by Henrike Daum, Andy Graydon, Michael Höpfner, Yuki Jungesblut and Anna Martinetz.
The theme for the first installment of Turtlelab Open Days is "Visiting the Zoo" or more specifically it is a set of associations triggered by the word Zoo. So on display are (obviously) unusual animals and creatures but also records of explorations, categorisations and ponderings. It is not so much the exhaustive treatment of the subject matter that is the aim of the show but rather to engage in the joy of discovery, curiosity and open discussion.
Schwedterstr. 262, 10119 Berlin (near U2 – Senefelder Platz)

opening 19 h, Friday 13th July with BBQ & Drinks (and some of the contributors)
opening hours: Sat–Tue 15–18 h
Wednesday from 16 h till 22h with drinks and cookies (and some of the contributors)
Costume Design for
INFINITE JEST BY DAVID FOSTER WALLACE
With: Bianchi/Macras, Gob Squad, Peter Kastenmüller, Jan Klata, Chris Kondek, Anna-Sophie Mahler, Richard Maxwell, Mariano Pensotti, Philippe Quesne, She She Pop, Jeremy Wade, Anna Viebrock and the animated video "My Best Thing" by Frances Stark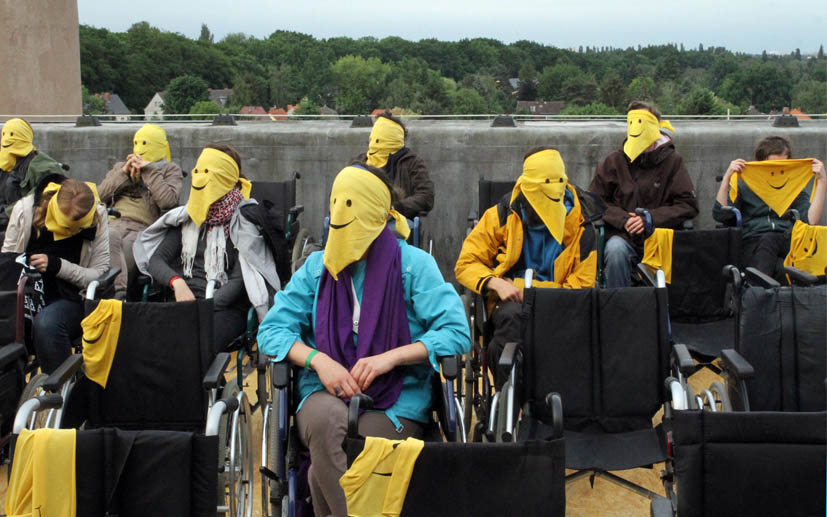 Infinite Jest is the title of a novel of now cult status by US author David Foster Wallace. Wallace's suicide in 2008 was the focus of much attention in international literary circles. Infinite Jest was published in 1996 in the US, with a German translation by Ulrich Blumenbach following much later, in 2009. The novel describes a fictional pleasure-driven consumer society – which is increasingly afflicted by depression and individual isolation.
At an elite tennis academy, young people are pushed to the limit; and at a rehabilitation center, a motley crew comes together of people who have failed due to crime, drugs and depression. Their performance-driven mentality clashes with the fear of failure; yet failure is already the everyday reality.
Infinite Jest is also the title of the movie in the novel that so engrosses the members of its audience that they watch it over and over again, forgetting to eat, drink, sleep or go to the bathroom – and eventually die. Seen as the metaphorical superstructure of the novel, the movie also describes how the subject disappears due to a suggestive force in the pictures. At the same time, Wallace chases this very subject through the 1500 pages of his novel – one last great search for the self.
Unendlicher Spaß
nach dem Roman von David Foster Wallace
Deutsch von Ulrich Blumenbach
Dramaturgie: Kathrin Veser, Johanna Höhmann, Idee Architektur: Benjamin Foerster-Baldenius, Matthias Rick, Produktionsleitung: Silke zu Eschenhoff, Caroline Farke, Elisabeth Knauf.
Ausstattung: Tal Shacham, Kostüme: Emma Cattell, Kerstin Honeit.
SCREENING
Tegel – Fights of Fancy at Kino Babylon Berlin

TEGEL: FLIGHTS OF FANCY is a video programme that responds to the planned closure of Berlin's Tegel Airport. The project is organised by Jaspar Joseph-Lester, Susanne Prinz and Julie Westerman and builds on a series of events, exhibitions and publications that have been realised through cross- cultural collaboration between artists based in the UK and Germany. The event will be hosted by Verein zur Förderung von Kunst und Kultur am Rosa-Luxemburg-Platz.
The closure of Tegel airport marks an important change in the way air travel is organised and experienced. The design of this airport is of a time when flight was associated with glamour, fantasy, technological progress, romantic chance encounters and fictional disasters. The building consists of a large concrete hexagonal structure circumnavigated by a corridor, punctuated with brightly coloured check-in desks. Viewing platforms and executive lounges populate the circumference of the building, inviting the traveller to enjoy a navigable thoroughfare instead of the shed-like enclosure with limited seating. There are commissioned art works, restaurants and bars, cafés and shops. The décor follows the distinctive bright colour schemes of its age all the way through to the plastic sinks and hand dryer in the restrooms.
Tegel Airport is closing and while there are rumours about the next incarnation of this elegant building, what it might become in the future remains uncertain. The 36 films selected for TEGEL: FLIGHTS OF FANCY speculate on both how the airport might be occupied in the future and what it symbolized in the past, they explore how air travel is hard wired into the imagination: the cinematic (disaster, romance and action movie all in one), and consider concepts of cultural
mobility, exchange and internationalism.
Artists: Michelle Atherton, Diane Bauer+Amanda Beech, Chloé Brown, Giorgio Cappozzo+Robert Gschwantner, Alison J.Carr+Kerstin Honeit, Steven Chodoriwsky, Jamie Crew, Nick Crowe+Ian Rawlinson, Harriet Davies, Bryan Eccleshall+Karl Heinz Jeron, Stella Flatten+Jon Klein+Liane Lang, Hondartza Fraga+Miguel Santos, Rachel Garfield+Janet Hodgson, Margarita Gluzberg, Jane Harris, Gill Hobson, Dale Holmes+Gary Simmonds, Dominique Hurth, Stephan Hüsch+Águeda Simó, Jaspar Joseph-Lester, Renata Kaminska, Natasja Keller+Irene Pätzug, Sharon Kivland, Olga Lewicka+Carsten Zorn, Jeff Luckey, T.C. McCormack, Ashley Metz+Boris, Riedel+Joachim Stein, Jon Moscow, Karina Nimmerfall, Robert Partridge, Amy Patton, Melody Panosian+Stéphane Querrec, Karin Ruggaber+Sarah Staton, Leon Seth, Julie Westerman.
Rosa-Luxemburg-Str. 30 10178 Berlin, Germany
Disobedient Obfuscation /// 18.04.2012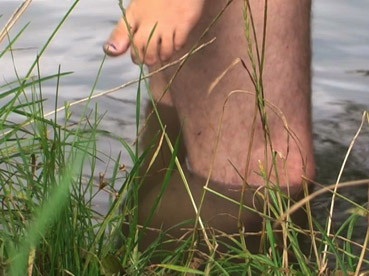 By means of film and video material – including material from Pauline Boudry/Renate Lorenz, Danica Dakic, Kerstin Honeit, Nguyen Tan Hoang – the lecture examines the issue of how far queerness is first and foremost aligned to the protagonists or to the narration. How else does it otherwise come into the picture? And to what extent can one talk about queer aesthetic strategies?
6pm Filmpalette – Filmkunstkino
Lübecker Str. 15
50668 Köln
IFFF Dortmund / Köln 2012
SHOWTIME goes Sheffield
OPENING EVENT: 01.03.2012 /// 29.02.2012–11.03.2012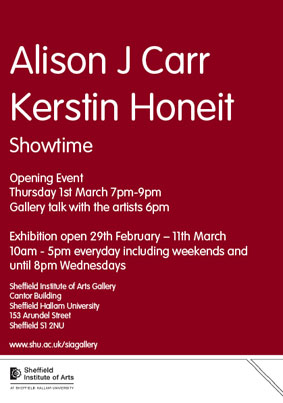 Allie Carr and Kerstin Honeit were brought together by LoBe, Berlin, taking part in a residency together in June 2011 and a subsequent exhibition, "Showtime" in December 2011. As they prepared to work together they began to exchange "video letters", which they continue to do. Their only rule is that they must respond to the video letter they receive.
Two ongoing dialogues have emerged out of this practice: "Video Letters: Voice" and "Video Letters: Body". Over the course of these conversations a shared visual language has evolved in which the commonalities and differences of their respective practices are teased out in an intimate way. As the artists technically and visually quote one another, conceptual and geographic distances are bridged. However, because of the conversational back and forth structure, the two artist's identities remain recognisably distinct.
The exhibition at Sheffield Institute of Arts will see the "Video Letters" reconfigured for the new context. The video work will be supported by stills from the conversations installed as photographs on the walls of the gallery. The mezzanine will be used to show an accumulative project of Honeit's: Position #1, a video work in which a static woman standing in front of a closed garage, whilst pedestrian and road traffic moves around her.
Honeit has created Position #1 in Berlin and Chicago and will add a new Sheffield instalment to create a three-channel piece on projectors.
10am–5pm everyday including weekends and until 8pm Wednesdays
Sheffield Institute of Arts Gallery
Cantor Building
Sheffield Hallam University
153 Arundel Street, Sheffield S1 2NU
LECTURE SERIES TRANSMISSION:
CATASTROPHE 29 February 5 to 7 p.m.
Guest: Kerstin Honeit, Host: Alison J. Carr
Pennine Lecture Theatre – Owen Building, Sheffield Hallam University
Howard Street, Sheffield, S1 1WB
OPENING DATE: 19.01.2012 /// 20.01.2012–19.02.2012
Simon Clark, Elly Clarke, Enda O'Donoghue, Kerstin Honeit, Rebecca Pittam, plan b/Sophia New & Dan Belasco Rogers, Fedora Romita and Kym Ward
at Clarke Gallery Birmingham / Berlin / Beyond, Coventry
Friday-Sunday 1–5 pm
Panel Discussion: 21.01.2012, 2pm – with all artists plus Alfredo Cramerotti
Meter Room, 58–64 Corporation Street, Coventry, West Midlands, CV11GF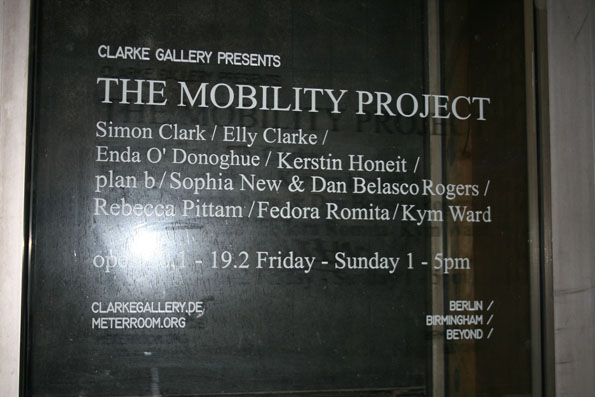 Clarke Gallery is delighted and honoured to bring The Mobility Project to The Meter Room. This is the second stop of this exhibition, which began at Galerie Suvi Lehtinen in Berlin. We are extremely grateful for the support of Arts Council England, Coventry Council and Culture Ireland – without which this exhibition – and all artists – could not have come to Coventry.
SHOWTIME
OPENING DATE: 16.12.2011 /// 17.12.2011–14.01.2012
Allie Carr & Kerstin Honeit at Galerie LoBe London / Berlin, Berlin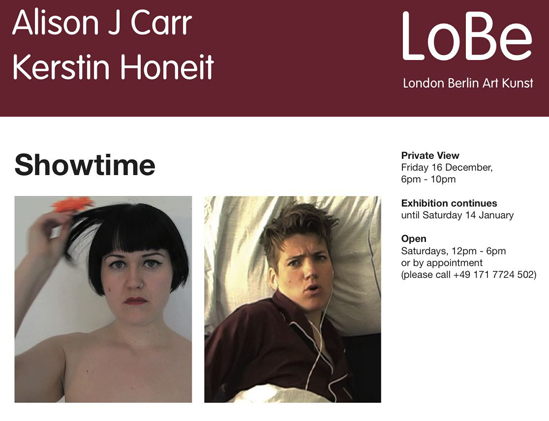 Alison J Carr and Kerstin Honeit began working together at LoBe in June 2011. Their collaboration involves an ongoing exchange of "video letters". These conversations commenced with dancing to Lady Gaga and descriptions of bodily affliction producingtwo ongoing dialogues: "Video Letters: Body" and "Video Letters: Voice". As the conversations continue we see the artists perform for each other: dancing to music, intervening in gallery spaces, asking other people to help them explore themes like the gaze. The only rule the artists adhere to, is that they must respond to the video letter they receive with a follow up video. A shared visual language is evolving as the artists both technically and visually quote one another, mimicking the way in which a verbal conversation uses repetition to register understanding. The conversation explores public and private spaces, intimate performances and investigative encounters.
Private View Friday 16 December, 6pm – 10pm Exhibition continues until Saturday 14 January
Open Saturdays, 12pm–6pm or by appointment
LoBe Scherer Strasse 7 13347 Berlin +49 171 772 450 2
info@lobeart.eu
www.lobeart.eu
ARTIST TALK
25.11.2011 Birmingham /// 28.11.2011 Coventry
Video artist, filmmaker and photographer Kerstin Honeit (Berlin) will be presenting photographs from her series "Becoming 10", followed by a discussion of image, identity, and memory, with curator and artist Elly Clarke.
The event is free, and we are pleased to be able to cover the travel and accommodation costs for any German studies postgraduate students who wish to attend; there is also the opportunity to meet the artist after the event.
Freitag, 25. November · 16:00–18:00 / The MAC, Cannon Hill Park, Birmingham B12 9QH
Monday, 28. November ·13:00–15:00 / Photography Lab (ETG10), Ellen Terry Building, Jordan Well, Coventry, CV1 5RW
OTHER PLACES
OPENING: 09.11.2011 /// 10.11.–10.12.2011
Kaucyila Brooke, Omar Gámez, Kerstin Honeit, Doug Ischar, Molly Landreth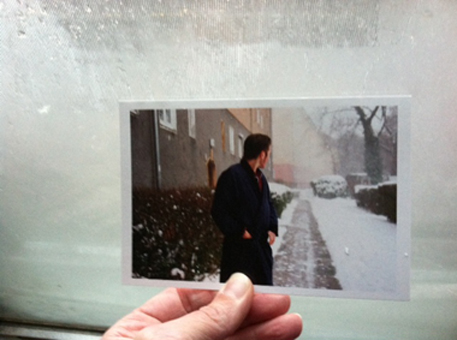 Other Places, guest curated by Tema Stauffer, brings together different generations of international artists whose photographs contribute to a dialogue about individuals and communities—past and present—existing in social and political margins based on sexuality and sexual identity. A selection of work by five artists from the United States, Mexico and Germany serves as a foundation for examination of each of their larger series and continuing practices.
At The Camera Club of New York, The Arts Building, 336 West 37th Street, Suite 206, New York, NY
Gallery hours: Monday–Saturday 12–6 pm
OPENING: 04.11.2011 /// 05.11.–10.12.2011
Mirja Busch, Surya Gied, Carolina Hellsgard, Kerstin Honeit,
Emma Waltraud Howes, Yun-Ting Hung, Bettina Hutschek,
Yuki Jungesblut, Frieda Knapp, Kathrin Köster, Jennis Li Chen Tien, Anna Mields,
Sharon Paz, Anja Claudia Pentrop, Petra Spielhagen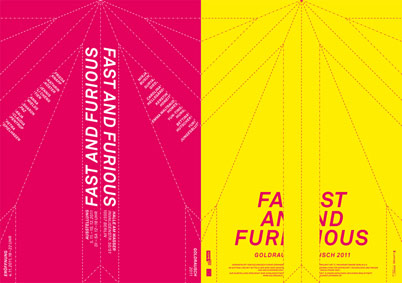 Fast and Furious – Goldrausch 2011 zeigt künstlerische Werke, die schnell und präzise aktuelle künstlerische wie gesellschaftliche Themen aufnehmen und etablierte Wahrnehmungsordnungen über Bord werfen. Präsentiert werden Filme mit großer atmosphärischer Dichte, dokumentarische und archivarische Strategien, photographische Bildentwürfe und raumgreifende Installationen.
Das Goldrausch Künstlerinnenprojekt ist ein postgraduales Stipendium für herausragende junge Künstlerinnen. Mit seinem umfassenden Programm, das beruflich relevante Themen wie Steuer- und Urheberrecht ebenso beinhaltet wie gezielte Strategien zur Sichtbarkeit der künstlerischen Arbeit, vermittelt das Projekt seit rund zwanzig Jahren "emerging artists" eine umfassende berufliche Professionalisierung.
Über aktuelle Veranstaltungen im Rahmen der Ausstellung und die einzelnen Websites der Künstlerinnen wird unter www.goldrausch-kuenstlerinnen.de informiert.
At Halle am Wasser (Invalidenstraße 50/51, 10557 Berlin)
Öffnungszeiten: Di bis Sa 12–18 Uhr
MOBILITY PROJECT
OPENING: 24.06.2011 /// 25.06.–30.07.2011
Simon Clark, Elly Clarke, Enda O'Donoghue, Kerstin Honeit,
plan b / Sophia New and Dan Belasco, Fedora Romita
at Galerie Suvi Lehtinen, Berlin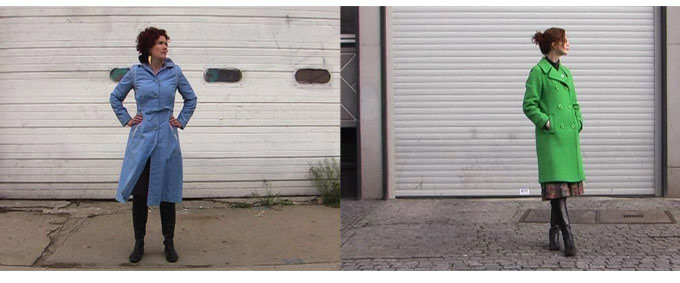 ARTIST TALK: 20.07.2011 @ Galerie Suvi Lehtinen
"Keep connected, you are never alone, never alone with a mobile phone in your pocket."
Over the last decade, particularly since the mass take-up of the mobile phone, the ever-increasing mobility – of people, goods, information and images– has radically altered the way we perceive, interpret, navigate and even describe the world. Notions of presence and absence, solitude and togetherness and even of geography are changing, as our personally tailored collections of contacts, communities, photos and politics are with us 24/7. The way we travel around the places we live in, and how we interact with others whilst we're there, has a great impact on the way we understand not only where we arebut also who we are. Communication and movement are, and always have been, closely linked, dictating the scope of our influence. But today, in a world where one tweeted photo can be seen across five continents within seconds, that influence can reach areas and cultures of which we have no concept.
Here, six projects present six different approaches to the project of mobility. From Simon Clark's epic cycle journey around the UK delivering postcards he picked up from the Galapagos Islands direct into people's hands to plan b's live redrawing of their GPS traces gathered over their past year in Berlin direct onto the gallery wall; from Enda O'Donoghue paintings created from low-res mobile phone photos found on the internet to Kerstin Honeit's multi-city performance-experiments where she instructs women to stand on the same area of pavement for fifteen minutes – and finally from Fedora Romita's audio recordings of the U-Bahn network of Berlin as a means of getting to know the city she just moved to, to my own five minute video showing an unexpected moment of stillness on the German autobahn – these are personal portraits of navigation. But, between them, they touch on wider issues that affect us all as we negotiate our way around the world C including gender, power, surveillance and the relationship between physical and virtual materiality.
Elly Clarke is an artist & curator based in Berlin and Birmingham, UK.
A series of artist talks and related events will take place during the run of this exhibition and a specially commissioned set of limitedCedition prints by each of the artists released at the opening. Please check the gallery website for further details and updates.